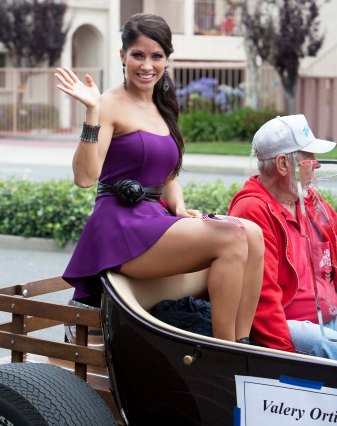 CONTACT: Judy Cooper – 949/640-8828 ph – 949/644-8889 fax – jcpr@pacbell.net
MEDIA ALERT- LATEST NEWS FROM THE GARDEN GROVE STRAWBERRY FESTIVAL TWO NEW KID SHOW STARS ADDED TO PARADE'S CELEBRITY LINE-UP
— Aedin Mincks and Mindy Sterling from Disney's A.N.T. Farm join 12-Star Group –
GARDEN GROVE, CA (May 10, 2012) — For the 54th year thousands of children will come again to the Garden Grove Strawberry Festival to ride the rides, savor the strawberries and wave to stars from their favorite shows who'll be riding in the festival's parade. The parade starts Saturday, May 26th at 10 a.m. Then at 1:30 p.m. fans will line up to get celebrity autographs at the signing booth. Two new additions to the festival's 12-star celebrity line-up are Aedin Mincks and Mindy Sterling from the Disney Channel's hit show
A.N.T. Farm.

Aedin Mincks plays the computer whiz, A.N.T. Farm's Angus Chestnut. His acting career includes Desperate Housewives, The Middle and New Girl. He broke into films playing Billy Bob Thornton's son in Faster and he'll be back on the big screen this July in Universal Pictures' Ted starring Mila Kunis, Mark Wahlberg and Giovanni Ribisi. Even at a young age Aedin helps charities such as CHOC, The Red Cross and American Cancer Society. He also personally sponsors a boy his same age in Rwanda through World Vision.
Joining Aedin will be another star from A.N.T. Farm, Mindy Sterling, who plays Susan Skidmore. Mindy is best known for her character portrayal of Frau Farbissina in The Austin Powers Trilogy. She has also played the Alien Supervisor in the film Mars Needs
Moms for Disney. Other film credits include The Grinch Who Stole Christmas, Drop DeadGorgeous, Reno 911. Her many TV credits include, 2 Broke Girls, Desperate Housewives, My Name is Earl, Curb Your Enthusiasm and ICarly. She also does countless animation
show voice-overs.
Other celebrities who will excite children attending are Karan Brar from Disney Channel's hit show Jessie, Damian McGinty from Glee, Knott's Berry Farm's Snoopy and Ronald McDonald.
Karan Brar plays 10-year-old Indian adoptee, Ravi Ross, in the Disney Channel comedy series Jessie. Thrilled with his new life in America, but wanting to remain linked to his beloved Indian homeland, Ravi keeps a seven foot Asian Water Monitor Lizard, Mr.
Kippling, in his room. Brar most recently starred in the popular movies, Diary of a Wimpy Kid and Diary of a Wimpy Kid: Rodrick Rules. He also appeared in the Seeds of Compassion advertorial announcing the Dalai Lama's visit as well as local educational
videos.
Damian McGinty is a 19-year-old from the small town of Derry in Northern Ireland. He has been singing and performing for over a decade and won his first music competition when he was six. Robert Ulrich invited him to Los Angeles to audition for The Glee
Project. Out of 40,000 applicants Damian was selected as one of 12 finalists and went on to win. Since then, he has regularly appeared in Glee in the guest role of Rory Flanagan, an Irish exchange student. Damian has made coast-to-coast Celtic Thunder tours of the USA and Canada, and has performed as one of five soloists in the show's specials broadcast nationally.
Eight additional TV and film celebrities will also be honored guests in the parade. They include Celebrity Grand Marshal Mariette Hartley (Law and Order: SVU); Ed Arnold (Anchor on PBS-SoCal The Real Orange); Charlie O'Connell (The Bachelor); Collette Carr (singer/songwriter; new album Primo);); On-air talent Shawn Parr (KKGO-FM "Go Country 105"); and three stars from The Closer: Michael Paul Chan (plays Lieutenant Mike Tao); Raymond Cruz (plays Detective Julio Sanchez); and Phillip P. Keane (plays Buzz
Watson).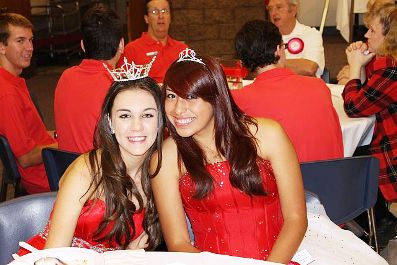 FESTIVAL FACTS:
The festival, the largest in the western U.S. with an annual attendance of over 250,000, takes place every year over Memorial Day weekend. Friday hours are 1 p.m. to 10 p.m.; Saturday and Sunday 10 a.m. to 10 p.m. and Monday from 10 a.m. to 9 p.m. All four festival days will offer 35 exciting carnival rides, contests, over 200+ food and shopping booths, games, autograph signings and live entertainment in the Showmobile and the 550-seat Amphitheater. Admission is free. Wristband ride discounts entitle the wearer to all rides, all day for one low price: $25 per person on Friday, $30 on Saturday through Monday.
Friday evening at 6 p.m. the Garden Grove Mayor and Miss Garden Grove will cut the world's largest strawberry shortcake. Slices will be served free to all who attend. Many celebrities will also be on hand to greet and meet their fans.
Contests include the Berry, Berry Beautiful Baby Contest, Redhead Roundup, Strawberry Idol Karaoke, and Tiny Tots King and Queen. Contestants sign up an hour before each contest. The festival website www.strawberryfestival.org has information on each event.
Live entertainment at the festival includes ABRAKADABRA Latin Pop band, NICK CORSETTI, Third Degree Blues Band, Amanda Ply and Full Spectrum, plus dance groups The Guardettes, The Colony of Performing Arts, and Miss Garden Grove and Friends.
The media and businesses have stepped forward to sponsor the event. This year's support comes from Battle of the Dance, Garden Grove Tourism Promotion Corporation, Clear Channel Outdoors, McDonalds, Care Ambulance Service, Jay's Catering, OCTA, Sam's Club, Crowne Plaza Resort Anaheim, Marinello Schools of Beauty, Southern California Gas Co., Garden Grove Secured Storage, Allspace Storage, Costco, Garden Grove Hospital, Parenting OC, Casa Garcia, Garden Grove Journal, Garden Grove Hospital, OC Weekly, OC News, Korea Times, Pennysaver, El Panamericano, Farandula USA, Miniondas, Nguoi Viet Daily News and
radio stations MYfm, KOST, KWVE, KSWB, KKGO, KSSE, KLYY, KDAY, KWIZ and Radio Disney.
The Garden Grove Strawberry Festival Association is a non-profit organization which has raised more than $6 million for local charities since its inception in 1958. For additional information, please call (714) 638-0981 or visit the website at www.strawberryfestival.org.
# # #