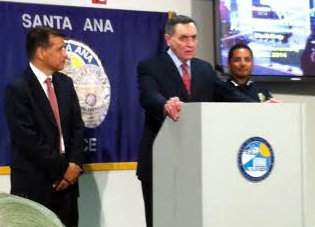 FOR IMMEDIATE RELEASE
Contact: Jeff Corless (714) 676-8878 or Megan Dutra (714) 676-8028
Supervisor-Elect Lisa Bartlett Names Former Police Chief and City Manager Paul Walters as Interim Deputy Chief of Staff
Bartlett Highlights Walters' 30 years of law enforcement and local government leadership experience for 5th District Transition
DANA POINT, CA-Today, Supervisor-Elect Lisa Bartlett, recently elected Orange County Supervisor of the 5th District, tapped highly respected former Police Chief and City Manager Paul Walters to serve as Interim Deputy Chief of Staff as she prepares to take office at the Orange County Board of Supervisors.
"I am proud to announce Paul Walters as Interim Deputy Chief of Staff as we prepare to transition into the 5th District Office at the Board of Supervisors. Paul's thirty plus years of experience in law enforcement, in local government as a city manager and his public service on many local and regional policy making bodies give him the perspective needed as we build a team of professionals to serve the 5th District on a myriad of significant policy issues," said Supervisor Elect Lisa Bartlett.
"I am honored to join Supervisor-Elect Lisa Bartlett to assist with leading the transition and bringing my experience to her office as she prepares to represent south Orange County on the Board of Supervisors," said Paul Walters.
Former Police Chief and City Manager Paul Walters is an expert on policy and management. Walters has managed many private and public agencies focusing on organizational efficiency through the implementation of fiscally prudent policies. He has served as a member and leader in many local, regional, and national management and public safety organizations including the International City/County Management Association, Orange County City Managers Association, Governing Board of Western Medical Center Santa Ana, Chairman of the Orange County Regional Narcotics Suppression Program, and Member of the FBI's National Advisory Policy Committee for Los Angeles and Orange Counties. From 1988 to 2011, Walters served as Police Chief for the City of Santa Ana, reducing the crime rate to its lowest in history at 40%. Also, Walters served as Chief Executive Officer-City Manager of the City of Santa Ana from 2011-2013 where he successfully led the city out of an impending bankruptcy. Walters holds a Master of Public Administration from the University of Southern California, Sol Price School of Public Policy, and a Juris Doctorate from the American College of Law. Walters began his career in the United States Air Force where he rose to the rank of Staff Sergeant. Throughout his career, he has been recognized by organizations including the Orange County Bar Foundation, International Association of Chiefs of Police, and the James Q. Wilson Regional Community Policing Institute.
Supervisor-Elect Lisa Bartlett, a two-term City Councilwoman and Mayor in the City of Dana Point, will replace termed-out Supervisor Pat Bates who was successfully elected to California State Senate. Lisa Bartlett was born and raised in Southern California and has been a resident of Dana Point for over 20 years. She has been an active voice and participant in the city's evolution into one of the most internationally desirable destination resort communities along California's coast. Her policy initiatives have led to job creation and economic growth in the South Orange County region.
The Fifth District encompasses the South County Cities of Aliso Viejo, Dana Point, Laguna Beach, Laguna Hills, Laguna Niguel, Laguna Woods, Lake Forest, Mission Viejo, Rancho Santa Margarita, San Clemente, San Juan Capistrano, the community of Shady Canyon in the City of Irvine, as well as the unincorporated communities of Coto de Caza, Ladera Ranch, Las Flores, and Wagon Wheel.
###