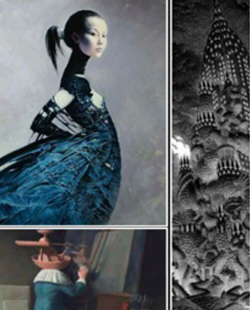 Check out Downtown Santa Ana this Saturday night, March 3, for this month's First Saturday Downtown Santa Ana Art Walk. Arts, crafts and live entertainment centrally located at: Second Street Promenade (2nd & Broadway) & the East End (3rd & Spurgeon).
There is always something new to see, including:
The Grand Central Art Center, featuring: Imaginary Realism: Works on Paper.  An exhibition highlighting eight international artists working within the Imaginary Realism movement. This exhibition focuses primarily on contemporary surrealism and artists working within the Visionary, Fantastical, and Magical Realism genres. Imaginary Realism has become a worldwide movement and continues to claim increasing attention in Europe, Asia and America.
MAR 3 – GALLERY 207 ( 207 N BROADWAY, SUITE E – DTSA ) (See the press release below)
For Immediate Release
Jaydee Dizon, 310.962.4520
A Collective of Artists Join Gallery 207 in Santa Ana
"Hustle and Bustle" is the catchphrase as Gallery 207 presents several local artists this March. Come join us in celebrating their first Santa Ana Art walk experience on Saturday, March 3rd from 6-10 PM. Their Artwork is exhibited at Gallery 207/ Raven Studios, 207 N. Broadway St. Suite E, on the second floor inside the historical Santora Arts Building in downtown Santa Ana from March 3rd – March 31st.
New Artists for March:
Douglas Cross's Ocean Arrowhead series of mixed media sculptures utilizes salvaged and damaged surfboards as a canvas. The pieces reflect two inspiring ideas: "Bringing new life to retired surfboards," and "Celebration of surf culture."
Faces by Katie Arminie, is an acrylic painting which represents the rich colors, the rhythmic line movement and surreal mood that is signature to her drawings and paintings. Her intention with this painting was to make a social commentary on child abuse and its devastating lasting effects.
Kenneth Inlow's work can best be described as Psychedelic-Surrealism. His work is derived from automatic drawings that are later refined and built upon, incorporating elements of various cultural and religious iconography and symbolism. Ken's art also references 60's and 70's psychedelic art."
Our Gallery 207 Artists:
Ingrid Reeve's Abstract Landscape series, "My working process begins with a limited palette and an image or a memory of a landscape. I later consider the emotions those colors evoke and the way our eyes reinterpret color based on its surroundings. My goal is to create paintings from torn paper collages that reflect a person's inner harmony or outer environment."
Ben Walker reveals his mini trees from his Tree Paintings series by using fluid acrylics on a small canvas.
Caesar Alzate Jr. Alzate-ism, Post-Color field painting. It's a rejection/revolt against realism in favor of the abstract. Non-figurative painting concerned with causing the paint to rise or lift above/beyond the canvas plane; through the process of, applying many paint layers with the application of heat. Pushing of the boundaries the paint is freed from the traditional context of use and becomes the subject itself. Focusing primarily on expanding the frontiers of aesthetic experience the painting is exhibited as a sculpture.
###
Gallery 207 / Raven Studios
207 N. Broadway Street, Suite E, Santa Ana, CA 92701
Closing Reception: Saturday, March 31st, 12-5 PM
Gallery hours: Saturdays 12-5 PM
Visit us on the web at http://gallery207.org for more information!