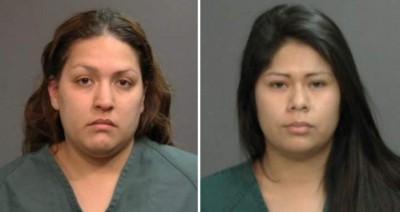 Candace Brito, 27, and Vanesa Zavala, 25, appeared at a preliminary hearing as  Pham's family member wore buttons with the victim's likeness. Both women had  pleaded not guilty to murder, according to KTLA.  A judge will decide if there is enough evidence to send two women to trial on charges they stomped and kicked a 23-year-old woman to death in a fight outside a popular California nightclub.
Patricia Navarro, a veteran Santa Ana homicide detective, said a witness reported seeing Vanesa Tapia Zavala, 25, join in a fight that started with a verbal altercation. Zavala and Candace Marie Brito, 27, both office workers from Santa Ana, have pleaded not guilty to murder charges, according to the OC Register.
Officer Gerardo Corona said three people from Pham's group, including her ex-boyfriend, gave witness statements at the scene. All three said Pham was standing in line when one of the women bumped into her and then "two to three females immediately began attacking Ms. Pham," Corona said, according to CBS News.
Kim  Pham could have died as a result of being punched, kicked or hitting her  head on the sidewalk during the violent Jan. 18 altercation, Dr. Etoi Davenport  said, according to the L.A. Times, which also reported that Davenport testified that "There were blows to the head, more than one, and as a result of that  she passed away."
Late last month, police said they were having trouble finding some witnesses who were with Pham that night and blamed the slow investigation in part on a suspicion of government figures that still abides in some pockets of the Vietnamese immigrant community here, according to CBS News.
What do you expect when the SAPD's temp Police Chief and the City Council denied this was a hate crime – before their investigation was even done?  Why would the Vietnamese community trust these people?