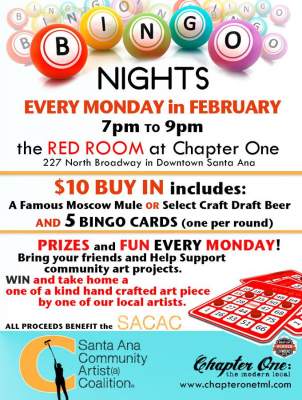 Chapter One: the Modern Local is hosting Bingo Nights on Mondays in February, in their Red Room, to benefit local artists. The next bingo night is set for Monday, February 10, 2014, at 7 pm.  Gamble & Drink Beer knowing that you are giving back a part of what you spend to support community art in Santa Ana. Here's your chance to contribute!  Money well spent!
The Santa Ana Community Artist Coalition is the organizer of this event.

You may be a lucky winner of some beautiful art, donated by the amazing Santa Ana CommUnity Artist(a) Coalition members. A little goes a long way.
Chapter One is located at 227 N Broadway, in Santa Ana.