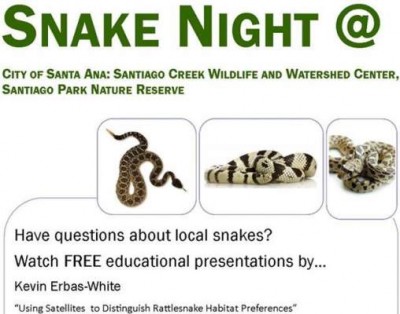 SNAKE NIGHT @ CITY OF SANTA ANA: SANTIAGO CREEK WILDLIFE AND WATERSHED CENTER, SANTIAGO PARK NATURE RESERVE
The Santiago Creek Wildlife and Watershed Center, at the Santiago Park Nature Reserve, is hosting a "Snake Night" on Friday, March 28, 2014, at 6 pm.
Have questions about local snakes? Watch a FREE educational presentation by Kevin Erbas-White, an Educational Specialist from the North American Field Herping Association (N.A.F.H.A.), "Using Satellites to Distinguish Rattlesnake Habitat Preferences."
N.A.F.H.A. is dedicated to uniting amateur, private and professional herpetologists from Canada, the United States and Mexico towards the common goal of understanding, conserving and managing native North American reptiles and amphibians.
The Santiago Creek Wildlife & Watershed Center is located at 600 E Memory Ln., in Santa Ana.  Overflow parking is available on Lawson and Memory Ln.
Call the Santiago Park Nature Reserve at (714) 647-6902 =.  Like them on Facebook here.