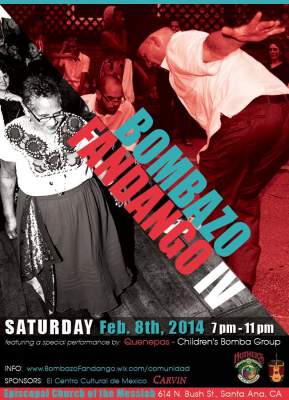 The Bombazo Fandango IV is set for tonight, February 8, 2014, from 7 pm to 11 pm, at the Epicospal Church of the Messiah, at 614 N Bush Street, in Santa Ana.  Admission is only $5!
BOMBAZO FANDANGO in Santa Ana!!! Bomba is one of the traditional musical genres from Puerto Rico, characterized by barrel drums (barriles), a shaker (maraca), sticks (cuas), call and response of song and the dynamic conversation between dancer and lead drummer (primo/subidor).
Bombazo= bomba gathering/conviviencia.
Son Jarocho is traditional music from Veracruz, Mexico characterized by stringed instruments called jaranas, the verses of traditional songs and a wooden stage (tarima) where the dancer creates music. Fandango=Son Jarocho gathering/conviviencia.
The Bombazo Fandango unites practitioners of these two genres from throughout their respective diasporas.
Special performance by Quenepas, children's Bomba group led by Shefali Shah and Hector Lugo.