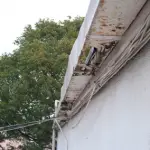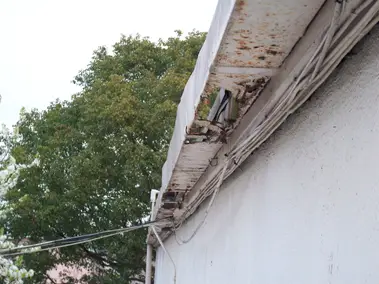 For Immediate Release: February 17, 2011
Contact: Lina Hamilton (916) 651-4034
Budget Cuts Could Eliminate Funding for Local Schools' Emergency Repairs
PHOTO: Emergency Repair Program unfunded approved project: Roof and low voltage infrastructure at Monte Vista Elementary School in Santa Ana
SACRAMENTO, CA— State Senator Lou Correa is fighting to protect funds for deteriorating local schools. In a letter to the members of two Senate Budget and Fiscal Review subcommittees, the Orange County senator urged them not to deny the Governor's 2011-12 proposed Budget allocation to fund the Emergency Repair Program with $54 million.
"It is beyond comprehension that the Legislature would want to "save" money by tearing down the ERP funding, which was created precisely for a targeted group of schools, the ones with greater needs, at the expense of the health and safety of students and teachers who already have to put up with deteriorating facilities every day," Senator Correa stated.
Just a few years ago, the Williams Settlement Legislation led to the establishment of the Emergency Repair Program (ERP) to allow school districts to make critical repairs that are deemed a threat to the health and safety of pupils; particularly at schools that serve disadvantaged students. The targeted schools are in the lowest three tiers in test scores which typically are attended by economically disadvantaged children.
Governor Brown's 2011-2012 Budget includes funding of ERP for three years. There are 25 projects in the Santa Ana Unified School District (SAUSD) totaling an estimated $22,461,772 for FY 2011-12 and 11 projects estimated at $13,061,004 for FY 2012-13, that would be funded if the administration's budget proposal for ERP is approved by the Legislature this year.
Regulations require that ERP projects are completed within 18 months of funding (21 months if Division of State Architect approval is required), thus improving the state economy quickly. In addition to providing equitable school facilities for disadvantaged children, the ERP program would provide high paying jobs and stimulate the economy.
"The Santa Ana Unified School District is committed to providing facilities that are conducive to learning," said Jane Russo, SAUSD Superintendent." Critical repairs are necessary at several of our schools and receiving Emergency Repair Program funding will help ensure that every child in our schools has a safe, healthy, and effective environment in which to learn".
Among schools districts waiting for ERP funding this fiscal year are Pasadena Unified (with nine projects affecting eight schools), Long Beach Unified, San Diego Unified, Sacramento City Unified, Fresno Unified and Oakland Unified.
In closing on his letter to the committees, Senator Correa stated: "I urge you to consider the health and safety risks to the thousands of Californians, including children, who will be impacted if the ERP funding is not adopted by the Legislature in its Budget revision."
State Senator Lou Correa represents the 34th District, which includes: Anaheim, Santa Ana, Garden Grove, Westminster, Stanton, Buena Park, and Fullerton.
###