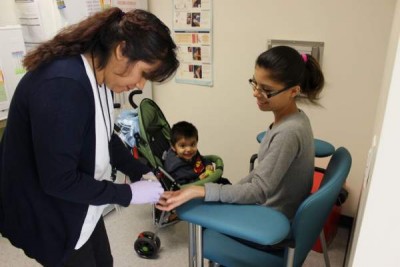 SHARE OUR SELVES RELOCATES, EXPANDS SOS-EL SOL WELLNESS CENTER TO GIVE SANTA ANA RESIDENTS ACCESS TO A FULL-TIME COMMUNITY HEALTH CLINIC
4,000 square-foot permanent facility on North Broadway offers primary health care for locals of all ages, including medical care, chronic disease management care, behavioral health, pharmacy services, and Affordable Care Act eligibility education and enrollment services
SANTA ANA, Calif., Nov. 16, 2015 – Share Our Selves (SOS) expands and relocates its nationally recognized health care services in Santa Ana to further serve the local population of children, adults and entire families who need easy access to full-scope primary care within their own neighborhood. The new SOS-El Sol Wellness Center at 1014 N. Broadway replaces the modular clinic SOS operated on the grounds of El Sol Science and Arts Academy.
"When El Sol Science and Arts Academy gained charter in Santa Ana, it removed barriers and created equality," said Karen McGlinn, SOS chief executive officer. "And when we joined forces with El Sol in 2010, another barrier was broken: vital health services became logistically and financially accessible within the neighborhood."
In fall 2010, SOS collaborated with the charter school to open the SOS–El Sol Wellness Center. Although the health care nonprofit served more than 3,100 students, families and local residents in 2014, obstacles still existed. The clinic was open only three days a week, it was not a permanent fixture in the community, and its presence on campus created the misperception that services were available only for students and their families.
"We've been able to break these barriers, too, by opening a full-time, permanent clinic just outside the El Sol campus," McGlinn said. "We treat patients in all stages of life, from pediatrics to geriatrics. We hope neighbors will consider the new SOS-El Sol Wellness Center as their health care home."
At the 4,000 square-foot facility, patients will find comprehensive primary care services. SOS offers the predominately low–income, Latino community access to children's services, women's health, men's health, behavioral health, pharmacy services and Affordable Care Act enrollment services. Same-day appointments are available for El Sol Science and Arts Academy students and local residents.
Services offered at the new location mirror those available at SOS' flagship clinic in Costa Mesa opened in 1970. Although Santa Ana borders Costa Mesa, those most vulnerable often don't have access to transportation, jobs that allow them time off or money to visit the Costa Mesa clinic. SOS is eliminating these impediments for the EL Sol neighborhood community and creating affordable and accessible health care for Santa Ana's neediest.
SOS' expansion points to community efforts to create health care equality among all Orange County residents, regardless of their residency, income or awareness of health issues. Patients are able to use their insurance plans, or if they lack insurance, they can utilize a sliding fee scale determined by their ability to pay. In addition, SOS is offering patients assistance for health insurance enrollment mandates by counseling them about options and helping them sign up.
The new SOS-El Sol Wellness Center is the result of community collaboration. Donors to this effort include El Sol Science and Arts Academy, the federal Health Resources & Services Administration (HRSA), Hoag Memorial Hospital Presbyterian, the Children & Families Commission of Orange County, Orange County Health Care Agency, St. Joseph Health, and the Weingart Foundation. Additional donors invested in the clinical staff: Baxter International Foundation, Kaiser Permanente, St. Joseph Health Foundation and Ueberroth Family Foundation.
The new SOS-El Sol Wellness Center is located at 1014 N. Broadway in Santa Ana. Appointments can be made by calling 949-270-2160. The center is currently open Monday and Thursday from 8 a.m. to 5 p.m. and Wednesday from 1:00 p.m. to 5:00 p.m. for clinical services, and Friday from 8:00 a.m. to 4:00 p.m. for eligibility screenings. The hours will go to Monday through Friday, 8:00 a.m. to 5:00 p.m. in December. Everyone is welcome at SOS-El Sol Wellness Center, even if they are uninsured or can't afford to pay for services.
About Share Our Selves (SOS)
As leaders in the community, Share Our Selves (SOS) has provided care and assistance to our most vulnerable populations in Orange County since 1970. With service centers throughout Orange County, we specialize in providing personalized care for the community, including medical and dental services, behavioral health, case management, financial assistance, and special holiday programs. Our experience and innovative solutions, paired with our wide-ranging services, allow us to address the systemic nature of poverty from many angles, upholding our clients' basic human rights through transformational care, and fighting for the dignity all members of our community deserve.
###