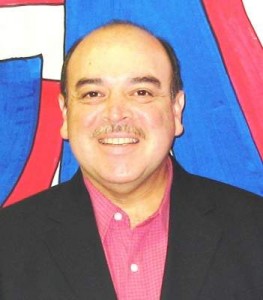 For Immediate Release: November 18, 2015
Contact: Dave Jacobson, (818) 943-2348, Shallman Communications
CORREA LOCKS UP ANOTHER PROMINENT ENDORSEMENT IN CA-46
California's 45th Lt. Governor Cruz Bustamante Backs Lou Correa for Congress
SANTA ANA, CA— Following his milestone endorsement from House Democratic Caucus Chair and Congressman Xavier Becerra, today former State Senator Lou Correa landed a significant endorsement from former California Lt. Governor and past State Assembly Speaker Cruz Bustamante in his campaign to represent California's 46th Congressional district seat.
The first Latino elected statewide in California in over 120 years, Bustamante was first elected to the California State Assembly in 1993 and became Assembly Speaker in 1996. He was elected Lt. Governor in 1998.
Responding to news of the endorsement, former State Senator Lou Correa released the following statement:
"Former Lt. Governor Cruz Bustamante is widely recognized as a trailblazer in California. I'm honored to have his endorsement. Like me, Lt. Governor Bustamante wants more action and less gridlock coming from Washington, with progress on job creation, increased investments in infrastructure, help for small businesses and comprehensive immigration reform. These are the issues I plan to tackle head-on in Congress. I appreciate the former Lt. Governor's confidence in my ability to deliver on this on behalf of the 46th District."
Underscoring his wide-ranging and dynamic list of endorsements, former Senator Correa has raked-in support from the following leaders and organizations:
Organizations:
California Small Business Association
Building Our Leadership Diversity (BOLD) PAC
International Union of Painters and Allied Trades District Council 36
Elected Leaders
House Democratic Caucus Chair & Congressman Xavier Becerra
Congressional Hispanic Caucus Chair and Congresswoman Linda Sánchez
Congresswoman & former State Assembly Speaker Karen Bass
Congressman Juan Vargas
Congressman Alan Lowenthal
Congressman Pete Aguilar
Congressman Ted Lieu
Congressman Tony Cardenas
Congresswoman Norma Torres
Congressman Raul Ruiz, MD.
Congressman Ruben Gallego
Congressman Luis Gutierrez
Congressman Ruben Hinojosa
Congressman Filemon Vela
California's State Treasurer John Chiang
California's Superintendent of Public Instruction Tom Torlakson
California State Senate President Pro-Tem Kevin de León
California Board of Equalization Chair Jerome Horton
California Latino Legislative Caucus Chair and State Assemblyman Luis Alejo
California State Senator and former Air Force General Richard Roth
California State Senator & LGBT trailblazer Mark Leno
California State Senator & Labor Committee Chair Tony Mendoza
California State Assemblywoman & former San Diego Central Labor Council Leader Lorena Gonzalez
Santa Ana City Council Member Michele Martinez
Santa Ana Unified School District Board President John Palacio
Santa Ana Unified School District Clerk Valerie Amezcua
Santa Ana Unified School District Board Member José Alfredo Hernández, J.D.
Anaheim Union High School District Board President Annemarie Randle-Trejo
Anaheim Union High School District Board Member Al Jabbar
Anaheim City School District Board of Education President Bob Gardner
Anaheim City School District Board of Education Member Ryan Ruelas
Anaheim Police Chief John Welter (Ret.)*
City of Garden Grove City Council Member Kris Beard
Huntington Beach Unified School District Board Member Bonnie Castrey
Los Angeles City Councilman, past State Senator Gil Cedillo
Community Leaders
South County Labor Chair Ray Cordova*
Orange County-based LGBT activist Gregory Willenborg*
Correa served in the California State Senate, representing the 34th District, from 2006- 2014 and served the cities of Anaheim, Buena Park, Fullerton, Garden Grove, Santa Ana, Stanton and Westminster. Prior to the Senate, he served on the Orange County Board of Supervisors representing the 1st District. Before his time on the Board, Correa served in the California State Assembly representing the 69th District.
*Titles for Identification Purposes Only.
For more information, please visit www.LouCorrea.com.
###