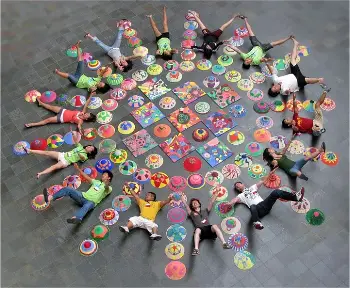 FOR IMMEDIATE RELEASE: OCTOBER 11, 2011
CONTACT: JENN STARNES, 949-724-6574
Circle Painting Comes Around to the Great Park
Community art project will connect all ages in a fun and artistic way.
IRVINE – Feel free to use the Great Park Balloon as inspiration as you participate in a Circle Painting community art project at the Orange County Great Park. Circle Painting, led by Interdisciplinary artist Hiep Nguyen, will bring people of all ages together to create a circular art project as a way to connect, create and celebrate on Saturday, October 29 from 10:00 a.m. to 2:00 p.m. at the Great Park Palm Court Arts Complex. Finished artwork will be on display at the Great Park.
The public is also invited to meet the artist and get an exclusive preview of the Circle Painting arts happening on Thursday, October 20 from 7 p.m. to 9 p.m. at the Great Park Artists Studios. The evening will include a presentation, live demonstration and discussion as well as free refreshments. Admission and parking are free for both events.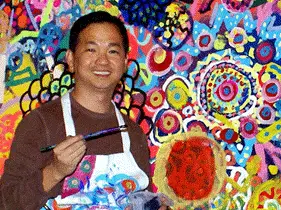 Hiep Nguyen created the first circle painting when he returned to his native country of Vietnam in 1999. Driven by his desire to connect with neighborhood children in the mountain town of Dalat, Nguyen invited them to paint circles with him in his studio. To his surprise, the children kept coming back for more, sometimes even with their friends and families. This experience inspired Nguyen to continue exploring the Circle theme as a way to connect, create and celebrate.
Besides leading festivals and community events, Hiep also conducts Circle Training workshops for artists, teachers, and activists who share his commitment toward community cultural development. His mission is to equip people who are "all for art" to take "art for all" into their communities. To date, Circle Painting has engaged more than 10,000 participants in ten countries. To learn more about Hiep Nguyen and Circle Painting visit: www.circlepainting.org
Circle Painting is the first of nine public Palm Court Arts Happenings presented at the Great Park in collaboration with Arts Orange County, the official arts council for the County of Orange.
The Orange County Great Park is located at Sand Canyon and Marine Way, and can easily be reached by the 5 or 405 freeways. For more information, visit ocgp.org or call (866) 829-3829.
About the Great Park
The Orange County Great Park, with its 1,347-acre master plan, is the focal point of the redevelopment of the publicly-owned portion of the 4,700-acre former Marine Corps Air Station, El Toro. The Great Park features an iconic tethered helium balloon that rises 400 feet in the air, providing an aerial view of Park development. Other features include the Carousel, Farm and Food Lab, Kids Rock Playground, Palm Court Arts Complex, North Lawn recreation area and historic Hangar 244. The South Lawn lighted soccer fields and Community Garden will be added in 2012. For more information, please go to www.ocgp.org.
###