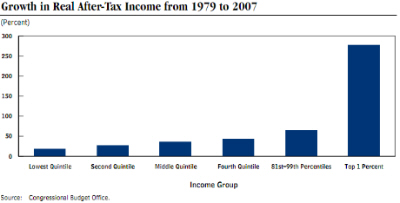 Congresswoman Loretta Sanchez, Representing California's 47th Congressional District
PRESS RELEASE, FOR IMMEDIATE RELEASE: October 27, 2011
MEDIA CONTACT: Adrienne Watson 202-309-0825
REP. SANCHEZ RESPONSE TO CBO REPORT ILLUSTRATING RAPIDLY EXPANDING INCOME INEQUALITY
WASHINGTON, D.C. – Congresswoman Loretta Sanchez (CA-47) released the following statement in response to a new report by the Congressional Budget Office (CBO) highlighting the rapidly expanding income inequality in the United States. The report found that the income of the top 1 percent of households grew by 275 percent between 1979 and 2007, compared with a 19 percent increase for the average American household.
"The CBO's report showing top earners doubled their share of our nation's income is extremely disturbing," said Sanchez. "The disparity in income between the rich and poor in our country is strikingly deep. It worsens by the day as many in Washington continue to favor corporations and Wall Street over middle class families. We must end the Bush tax breaks for millionaires and pass policies that put the American Dream within reach for all Americans, and not just some."
To see a copy of the report, click here.
Congresswoman Loretta Sanchez is proud to represent California's 47th Congressional District, which includes the cities of Anaheim, Garden Grove, Santa Ana, and parts of Fullerton in Orange County. She serves as Ranking Member of the House Armed Services Subcommittee on Strategic Forces and a senior member of the Committee on Homeland Security. Rep. Sanchez is also a member of the fiscally conservative Blue Dog Coalition and sits on the bipartisan, bicameral Joint Economic Committee.
# # #
United States House of Representatives
1114 Longworth House Office Building • Washington, DC 20515
Phone: 202-225-2965 • Fax: 202-225-5859