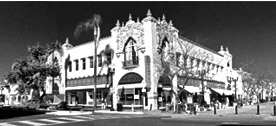 Did you know that the internationally renowned Toastmasters Club was founded in October of 1924, right here in Downtown Santa Ana in the basement of the historic Y.M.C.A. Building?  Click here to read all about that.
This Sunday, July 10, the Toastmasters Club is making a comeback, at the Sotano Gallery, in the Santora Building, from 3 to 5 p.m.This is your chance to talk about all things related to Art and Santa Ana.
We look forward to your visit and participation.  For directions, please click here.
English as a Second Language Club No. 1– The Arts in our Lives
Agenda
Sunday, July 10, 2011 at 2:30 p.m.
Studio del Sotano, Santora Art Building
207 Broadway, Santa Ana Artist District, 92701
2:30,-3:00 p.m. Registration, Networking, Name Tags
3:00 p.m. Assemble the Audience–Sergeant-at-Arms
3:05 p.m Welcome and Opening Ceremony, Dr. Patricia Adelekan,DTM & Matt Southgate, Studio del Sotano
3:15 p.m. Introduction of Guests, Dr. Pat and Matt
Introduction of Toastmaster of the Day, Dr. Patricia Adelekan, DTM
3:20 p.m. Toastmaster outline the conduct and purpose of the meeting
3:25 p.m. Explanation 2 types of Speeches: Prepared and Extemporaneous
Introduction of Evaluation TEAM: General Evaluator; Timer:; Evaluator: Gloria Chen; Teller:
Prepared Speeches from a Toastmasters' Manual
3:30 p.m. Lourdes Crampton, CC 5-7 mins Evaluator: 2-3 mins – Gloria Chen
3:40 p.m. Tina Shin, Advanced Manual, Radio Talk Show (3-5; 2 min)
3:50 p.m. Jamel Thomas, Candidate for World Champion of Public Speaking
Call on Timers Report —
4:00 p.m. Evaluations:
Call on Timers Report — Vote for Best Speaker
4:10 p.m. Table Topics (3): Urmil Narang
Call on Timers Report
Best Table Topics
4:15 Guest Speaker(s) — Geneieve Barrios Southgate, Director, Bowers Kidseum
Others ________________________________________________-
Announce Best Speaker, Table Topics
4:25 p.m. Closing Remarks — Matt South, Dr. Pat, others
4:30 p.m. Photographs of members, guests, networking, refreshments