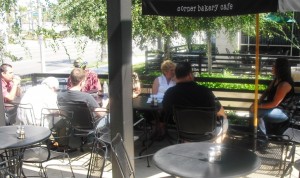 Failed Santa Ana Mayoral candidate Alfredo Amezcua strolled into Santa Ana City Councilwoman Michele Martinez' meeting this morning, at the Corner Bakery located at the CityPlace, as if he owned the place.  He even refused to shake hands with a local resident at the meeting.
Martinez held the meeting to give those interested in running for local office in Santa Ana a chance to meet her, and to give advice to any residents interested in seeking public office.
Martinez' fellow Council Member, Vince Sarmiento, also showed up.  Both of them had a lot to say about running for office and serving the people of Santa Ana.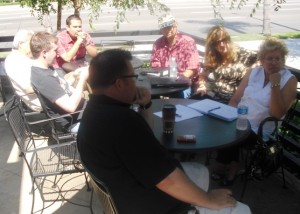 Martinez pointed out the fact that the current City Council is dealing with a lot of problems created by past City Councils.  She brought up the overcrowded high density apartments in the Willard neighborhood as an example.
Amezcua is of course allied with the folks who created the Willard mess, and he had the nerve to complain today about transparency, etc.  But Planning Commissioner Sean Mill, who also attended the meeting, would have none of that.  Mill reminded everyone there that Amezcua's allies are upset because they no longer run the city, but the current Council majority is progressive and is doing great things for everyone.
There were only eight people at the meeting, including Connie Hamilton, who started an organization called Connect to Council a few years go.  Hamilton complained that the current City Council is too partisan (they are all Democrats, except for Carlos Bustamante, who like Hamilton is a Republican).  I don't recall her complaining about that when former Councilman Brett Franklin was serving on the OC GOP Central Committee.  In fact her ally, past Mayoral candidate Thomas Gordon, also serves on the OC GOP Central Committee.  None of the current City Council members serve on their party committees.
None of those in attendance said they were going to run for office, even Amezcua, who probably will run for Mayor of Santa Ana again.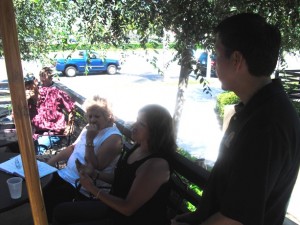 David Saldana was there, from Taller San Jose.  He expressed an interest in running for Mayor.
There will be some opportunities coming up in 2012, for those interested in running for the Santa Ana City Council.  Sarmiento is running for the 69th Assembly District.  He will win that race easily and the Council will appoint someone to replace him on the Council.  Mayor Pro Tem Claudia Alvarez may be termed out although many believe that Measure D will allow her to run again for the City Council.
Martinez should be lauded for holding this meeting.  It is too bad that Amezcua crashed the meeting and tried to take it over.  It is a good thing Mill was there to make sure that didn't happen.
Amezcua should hold his own meeting, perhaps at the home of his friend, Tom Lutz – a past Council member who created a lot of the problems our City Council is dealing with today.