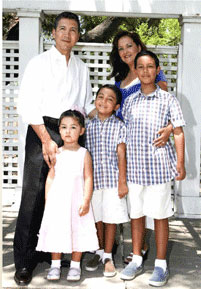 I am hearing that there is a chance that Santa Ana Council Member Vince Sarmiento may not run for the 69th Assembly District after all.  Apparently it is going to be up to his wife – and as he has a successful law practice and young children she may in the end not go for it.
The incumbent legislator, Jose Solorio, is terming out – in 2012.  His open seat will be a rare opportunity to elect someone decent.  Right now the Democrats have the edge but that may change when the district undergoes redistricting.  The proposed plan seems to disadvantage Latino voters and it puts the GOP in a position to recapture a seat they once held, way back under Jim Morrissey.
The only other Democrat in the race right now is OC Labor Political Director Julio Perez – an unknown quantity who has never run for any other elected office.  As a labor proponent Perez is out of touch with most of the voters in the district, and he is part of a movement that has essentially bankrupted California, with out of control public pensions, early retirements, etc.
The election in the 2012 primary will be an open one – meaning voters will be able to vote for any candidate of any party.  That could make things interesting.
Let's say Sarmiento demurs, and Perez is the only Democrat in the race.  The Republicans will no doubt run a white, overly conservative candidate.  That is how they generally roll.  But what if a white, progressive Democrat jumps in the race – one that is more acceptable to business interests?  And what if a Latino Republican jumps in to?
The Libertarian candidate could split the Latino vote, especially if he hails from Santa Ana.  Perez is from Anaheim.  He has only a small following in Santa Ana.
This could put either the Republican candidate or the white Democratic candidate in the cat-bird seat.
If the Democrats lose the seat, Solorio instantly becomes the new Jim Morrissey – the latest legislator to watch his seat go to the other party.
Could a Vietnamese candidate prevail?  I don't think so, but perhaps we might see that happen in another few years.
I hope Sarmiento runs, but if he doesn't this race might go in some very interesting directions indeed.