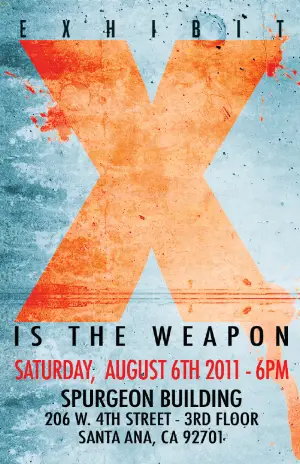 X is the Weapon Presents Exhibit X –  a Group Art Show, on Saturday, August 6 at 6:00pm – August 7 at 12:00am, at the Spurgeon Building, located at 206 W. 4th Street, Room 322, in Downtown Santa Ana.  Click here to RSVP on Facebook.
Group Show Art show and Music. –
*** BUYERS MARKET***
ALL ART IS FOR SALE / PRINTS WILL BE AVAILABLE.  (Cash, checks and cc) – (Portion of proceeds donated to JAPAN RELIEF via CALAFIA ZULUS).
EVENT IS FREE in conjunction with the SANTA ANA ART WALK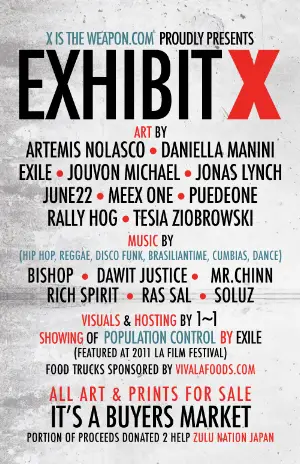 ALL NEW UNSEEN ART BY:
Artemis Nolasco
Jouvon Michael
Daniella Manini (SD)
Rally Hog
PuedeOne (LA)
Jonas Lynch (Sac)
Meex One (LA)
Exile (LA)
June22
MUSIC SELECTIONS BY
Dawit Justice (Calafia Zulus / Channel Rock)
Mr. Chinn
Soluz
Bishop (Calafia Zulus)
more TBA
VISUALS BY
SPECIAL SHOWING OF
Population Control by Exile (featured at 2011 LA Film Festival)
HOSTED BY
Music, Art, Vendors, Vino – all a block away from the SANTA ANA ART WALK
FOOD TRUCKS sponsored by VIVALAFOODS.com