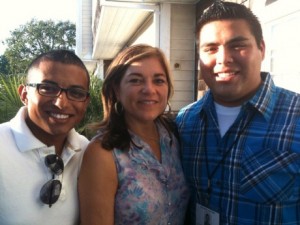 Congresswoman Loretta Sanchez, Representing California's 47th Congressional District
PRESS RELEASE, FOR IMMEDIATE RELEASE: July 11, 2011
MEDIA CONTACT: Adrienne Watson 202-309-0825
REP. LORETTA SANCHEZ ANNOUNCES $320,832.00 IN GRANTS FUNDS FOR SANTA ANA COLLEGE
WASHINGTON, D.C. – Congresswoman Loretta Sanchez (CA-47) is pleased to announce that Santa Ana College will receive a grant of $320,832.00 from the U.S. Department of Education's Talent Search Program.
The Talent Search Program, one of eight Federal TRIO Programs offered by the Department of Education, aims to increase the number of disadvantaged youth who complete their secondary education and continue along to enroll in a postsecondary institution. Santa Ana College has a history of providing necessary tools and services to students who are traditionally underrepresented in postsecondary education.
"I am very pleased that Santa Ana College has received this significant and competitive grant," Sanchez said. "The money that they receive from this program will open the door for more students to achieve success through higher education. Today, it is more important than ever that we support community colleges in their efforts to expand opportunities for underprivileged students."
Congresswoman Loretta Sanchez is proud to represent California's 47th Congressional District, which includes the cities of Anaheim, Garden Grove, Santa Ana, and parts of Fullerton in Orange County. She serves as Ranking Member of the House Armed Services Subcommittee on Strategic Forces and a senior member of the Committee on Homeland Security. Rep. Sanchez is also a member of the fiscally conservative Blue Dog Coalition and sits on the bipartisan, bicameral Joint Economic Committee.
# # #
United States House of Representatives
1114 Longworth House Office Building • Washington, DC 20515
Phone: 202-225-2965 • Fax: 202-225-5859