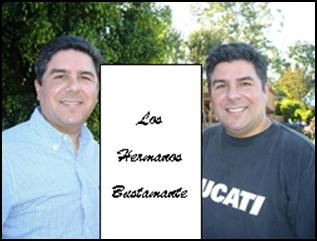 A lawsuit filed this week in Orange County Superior Court accuses Alfonso Bustamante, the twin brother of Santa Ana Council Member Carlos Bustamante, "of repeatedly abusing his position as a licensed psychologist by secretly engaging in a "side relationship" with the female half of a married couple seeking counseling," according to the OC Weekly.
"Damien Edwards claims in his seven-page lawsuit that Bustamante–who is the married brother of Carlos Bustamante, the disgraced Republican politician–is guilty of professional negligence, breach of fiduciary duty, breach of confidentiality and intentional infliction of emotion distress."
Remember those emails I got from one of Bustamante's ex-girlfriends, starting back in 2009?  She implicated Alfonso as well as Carlos.  And looking back at her emails she was rather coy as to which one she was allegedly dating.  
I also reported back in 2008 that Alfonso was considering running for the Santa Ana City Council – and it looks like we may have dodged a bullet as in the end he did not run.
We could have stopped Carlos in 2008 too, when he was up for reelection, but the Democrats didn't bother to find someone to run against him, and when I ended up challenging him the Liberal OC bloggers ended up attacking me instead of Carlos.  What a shame.  We ended up stuck with this foul Republican for four more years – and the Democratic Party of Orange County and their blogger allies are to blame for that.
Alfonso was previously accused of being a slumlord – and yet he continues to serve on the Santa Ana Historical Resources Commission.  He was appointed by Santa Ana Council Member Michele Martinez, who obviously needs to give him the boot ASAP.
The lawsuit against Alfonso is serious.  The claimant's "lawyer, John L. Fleer of Walnut Creek, also accused Bustamante of violating the American Psychological Association code of ethics as well as California's business and professional codes," according to the OC Weekly.
In related news, "The attorney for Carlos Bustamante, the Santa Ana city councilman accused of multiple sex crimes against women who worked for him at Orange County Public Works, is asking the courts to dismiss all charges, accusing District Attorney Tony Rackauckas of "egregious" conduct that will prevent a fair trial," according to the Voice of OC.
I don't expect this strategy to work, but Bustamante's lawyer has to try every ploy at his disposal.  It doesn't look good for his client – and now it doesn't look good for his twin brother Alfonso either.  Carlos recently sold his jaguar, I would imagine to help pay for his legal bills.  Will Alfonso now have to sell his Bentley too?