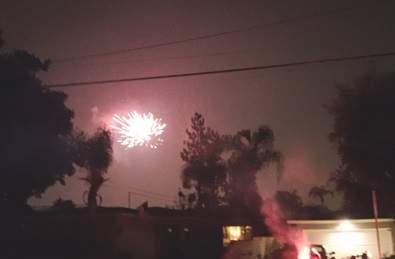 Illegal fireworks have always been a problem in Santa Ana but this 4th of July seemed like perhaps the worst ever in this regard.  Residents all over the city posted pictures of the illegal fireworks on Facebook – and even the more exclusive neighborhoods in north Santa Ana were bombarded with bottle rockets and mortars.
The O.C. Register reported that sales at Santa Ana fireworks stands were down this year and blamed the legalization of safe and sane fireworks in Anaheim and in Huntington Beach. However I suspect that residents weren't buying the legal fireworks because they invested in the illegal ones instead.
And this year the illegal fireworks actually caused significant harm.  A fire broke out at 9:25 p.m. Saturday in the 800 block of Townsend Street in Santa Ana, after two palm trees burst into flames after illegal fireworks were set off, according to the O.C. Register.
The flames quickly spread to a two-story, multi-family building in the 800 block of South Townsend Street in Santa Ana, and 30 OCFA firefighters put out the flames by 9:50 p.m., according to the O.C. Weekly. There was significant damage to the building.
Illegal fireworks also ignited a fire that destroyed five trees in Buena Park and caused more than $50,000 in damage Sunday, according to the O.C. Register.
There were additional fires caused by illegal fireworks in Stanton and Laguna Hills.  And residents in Fullerton, Anaheim and Huntington Beach have reported massive problems with illegal fireworks, on Facebook.
Can our local governments do something about this problem before it eventually leads to loss of life?
I believe we can stem the tide of illegal fireworks – but this will have to be an organized effort that should include:
Public education – not just during the 4th of July but all year long.  And every single legal fireworks stand should be required to provide a flier to their customers discouraging the use of illegal fireworks
Police and Fire departments must work together on the 4th of July and identify those using illegal fireworks.  Their pictures should be posted on Police and Fire department Facebook pages after they are cited/arrested.  Let's get the media involved and broadcast the identities of the miscreants so they can be publicly shamed.
There are not enough policemen in Santa Ana to solve this problem.  We all need to do our part to record illegal activity and the police need to give us the means to quickly report the use of illegal fireworks so they can take action.
Police must work with the Feds and State officials to determine where the illegal fireworks are coming from and take action all year long, not just on the 4th of July.
Stop blaming legal fireworks for the use of illegal ones!  Encourage folks to buy the legal ones.  They are generally safe and the sale of legal fireworks funds a lot of great charities.
We cannot solve this problem unless we all roll up our sleeves and take action.  What happened this year should be a wake up call for all of us!  Our City Council in particular better wake up and smell the illegal fireworks…