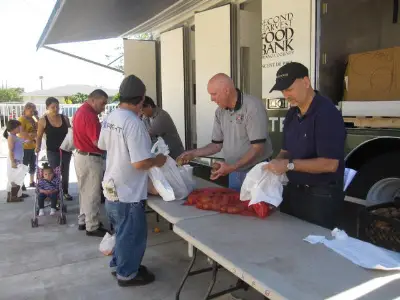 Food Giveaway for Orange County's Hungry This Weekend
Second Harvest Food Bank and BISNAR CHASE to donate food to area's needy Saturday, April 21, 2012. 
Newport Beach, CA, April 18, 2012
– Second Harvest Food Bank of Orange County and
BISNAR | CHASE Personal Injury Attorneys, LLP
in Orange County, California  are donating food to the area's hungry this
Saturday, April 21, 2012
at the
Adopt A Pantry in Santa Ana located at 1971 E. Fourth Street
.  The food donation begins at
12:30 PM
.
In 2004, Census Data estimated that 300,000 residents in Orange County lived at or below the federal poverty level. In 2005, it was estimated that almost 1 million residents in Orange County lived within 200% of that poverty level.
John Bisnar
, founder of BISNAR CHASE, says these statistics coupled with the recent recession has impacted many area residents, forcing them to make some tough decisions.  "When people have to choose between food and gas, food and health care or food and heat, they usually go to bed hungry," said Bisnar.  "We don't want people to have to choose.  We want to put food on the table so that no one goes hungry."
Bisnar Chase sponsors bi-monthly food giveaways and has teamed up with Second Harvest Food Bank of Orange County five times.  This is the firm's sixth sponsorship.  
Second Harvest Food Bank of Orange County
, a member of Feeding America, is the largest private hunger relief organization in the county, partnering with more than 470 charitable organizations to feed an average of 240,000 people each month. Since 1983, Second Harvest Food Bank of Orange County has distributed more than 272 million pounds of safe and nutritious surplus food. For every dollar that is donated, 94.6 cents goes directly to hunger-relief programs. To learn more, please visit
http://www.feedoc.org
.
Bisnar is asking other businesses in the area, as well as individual residents, to contribute to feeding the hungry in Orange County by volunteering man hours or donating money to help Second Harvest distribute food.
"We believe it's a corporate responsibility, as well as a personal one, to do what we can to help people struggling with financial choices," said Bisnar.  "A part of putting that responsibility into action is to sponsor bi-monthly food pantry distributions.  We want others to do the same."
Individuals who would like to help hand out food at Saturday's event
are asked to email Danielle Olson of BISNAR CHASE at
dolson@bisnarchase.com
.  Businesses who would like to sponsor food giveaways are asked to visit the Second Harvest Food Bank website at
http://www.FeedOC.org
to learn how to donate funds, food and/or time.
BISNAR | CHASE Personal Injury Attorneys, LLP of Orange County, California represent people who have been very seriously injured or lost a family member due to a
car accident
, defective product or negligence throughout California. The law firm has won a wide variety of challenging personal injury and defective product cases, involving car accidents, work related injuries, dog attacks and defective products. For more information about the firm and its philanthropic work, visit
http://www.bestattorney.com/
giving-spotlight.html
.
# # #