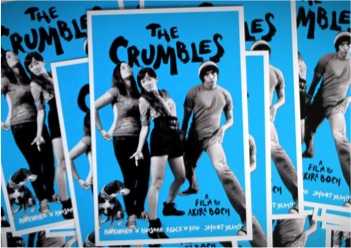 PRESS RELEASE, FOR IMMEDIATE RELEASE: August 15, 2012
CONTACT: Gena S. Hamamoto, e-mail: info@thecrumbles.com, website: www.TheCrumbles.com
THE CRUMBLES Award-Winning Feature Film to Open for the OC Film Fiesta
WHAT: THE CRUMBLES Opens for the 3rd Annual OC Film Fiesta
WHEN: September 1, 2012, live bands 6 pm, film screening 8 pm
WHERE: Santa Ana Artists Village 207 N. Broadway Santa Ana, CA 92701
Santa Ana, CA, September 1, 2012– THE CRUMBLES, winner of the Audience Award for Best Narrative Feature at the San Francisco International Asian American Film Festival, will open for the 3rd Annual OC Film Fiesta. The opening night celebrations will kick off with special performances by bands The Moan, The Tequila Worms, and a special guest. A Q&A with the cast and crew will follow the screening.
THE CRUMBLES follows the ups and downs of the greatest band in the world… that no one's ever heard of. This indie rock slice-of-life tragicomedy stars a talented up-and-coming, multi- racial cast including Teresa Michelle Lee, Katie Hipol and Jeff Torres, whose performances have been called "memorable and spirited" by the San Francisco International Asian American Film Festival. The film is set in Echo Park, one of LA's oldest and most eclectic neighborhoods, with a population made up of working class Latinos, hipsters, and artists of all stripes. The odd mixture of people and cultures creates a funky and flavorful milieu, where the characters in THE CRUMBLES fit right in.
Darla (Katie Hipol) is an overly serious musician whose stagnant life is shaken up when her long lost best friend Elisa (Teresa Michelle Lee) shows up and crashes on her couch… indefinitely. Free-spirited Elisa has just moved back to Los Angeles after a devastating break-up, and no one else in their funky group of friends is willing to help her out. She is charming and musically gifted, making her the perfect partner in the band that Darla has long wanted to start up. But when the band gets rolling, insecurity, heartache, and oversized egos all work against them. While they both share dreams of rocking the globe, it becomes a monumental struggle just getting their new band out of the garage.
THE CRUMBLES is award-winning director Akira Boch's feature film debut. Inspired by Boch's real-life experience of playing in a garage band, it captures the feeling of excitement that comes with being a young adult — stepping out into the world on a new adventure with friends, beginning the fulfillment of a long-held fantasy. But the film also shows how reality eventually wins out – bringing disappointment and heartbreak, and forcing people to be resilient and grow.
Indie film fans and music lovers will be drawn in by the original soundtrack by Quetzal Flores, whose band, QUETZAL, has been called "provocative, heartfelt and strikingly original" by the LA Times. Spending months working on the songs in his home studio with the help of his musician friends, Flores produced a unique sound tailored for the fictional band and the actors' real musical talents.
"Be ready for fun music, lots of beer, and a taste of the next chapter in this burgeoning filmmaker's career," says the San Francisco International Asian American Film Festival.
For more information about THE CRUMBLES and Chicken Teriyaki Bingo Productions, LLC, please visit www.TheCrumbles.com or contact Gena Hamamoto at info@thecrumbles.com.
###