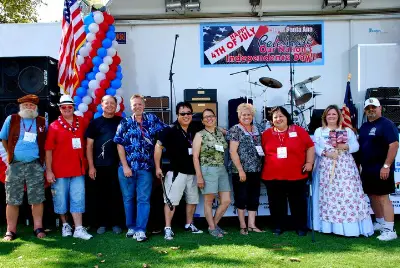 Santa Ana Mayoral candidate George Collins gloated on Facebook today because his name is going to appear first on the ballot, as per the California Secretary of State's random drawing, which determined the order of the candidates on the November ballot.  But does Collins have a chance to beat the incumbent, Mayor Miguel Pulido?
The fact is, there are too many candidates running against Pulido, ant to make matters worse for Collins, he is fighting over the same voters with two other challengers – Minuteman Lupe Moreno and Santa Ana Council Member David Benavides.  All three of them are hoping to get the Usual Suspect vote, but there really aren't enough of those votes left in town to matter, even if one of the candidates were able to garner all of their votes.
Now perhaps Collins is hoping to get votes by virtue of being the only Anglo on the ballot.  That might hold true were it not for the fact that Moreno hates her own people and is not afraid to share those beliefs with the voters.  And Benavides is the Usual Suspects' best friend – he appoints them to City Commissions and he even gave an award to Moreno  a couple years ago.  That award backfired.
To recap, Moreno, at the time, was running the Santa Ana 4th of July event and she imported Minutemen from as far away as Yorba Linda, to man the event.  One of these haters called a Santa Ana resident a "Wetback" but the incident blew up and went viral when it was caught on video and exposed online.  Despite that mess, Benavides honored Moreno and her cohorts.
Now, inexplicably, Moreno is running against her pal Benavides, and so is Collins.  But all three appeal to a limited audience.  And two other challengers, retired engineer Roy Alvarado and CSUF Student/Retail store manager Miguel Briseno figure to get a few votes too.
Collins might be in first place on the ballot, but I suspect he will be close to las place when the votes are tallied.  This Council will remain all-Latino for awhile yet.