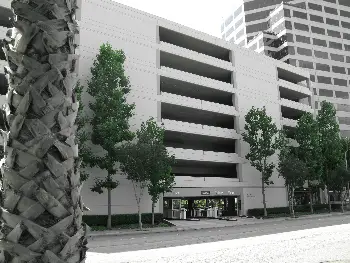 ORANGE ENJOYS IMPROVED WIRELESS SERVICE THROUGH MAJOR AT&T UPGRADES
AT&T UPGRADES SERVICE IN ORANGE
MAJOR AT&T NETWORK IMPROVEMENTS IN ORANGE
What may look like a parking garage to the average eye actually doubles as an AT&T high capacity cell site which is bringing faster speeds, increased reliability best-in-class wireless service to Orange.  The cell site in Orange is one of many that have been upgraded with additional capacity this year.
Wireless traffic on AT&T's network has surged 8,000 percent in the last four years and, according to a Forbes report in March this year, it expects an eight-to-10-fold increase in demand in the next five years. To stay ahead of this burgeoning market, AT&T is investing $450 million in state-of-the-art network improvements in Los Angeles and Orange Counties, upgrading existing cell sites and adding new ones throughout the Southland.  Businesses and individual customers in Orange will enjoy quicker, better, clearer service on the full spectrum of wireless devices.
"Companies need the highest quality broadband services to compete effectively in today's technology-oriented universe. Our upgrades will allow them to conduct business faster and more efficiently and to take advantage of all that wireless communications — phone, video, Internet and other data services — have to offer," notes Richard Porras, AT&T Regional Vice President. "Importantly, individuals also will be able to talk and surf at the same time, making a reservation for dinner while chatting with a friend on the phone, or getting stock market quotes while talking with their broker."
On a national level, AT&T is investing $20 billion to improve its wireless infrastructure.  It is adding new layers of frequency to existing cell sites, allowing the company to manage available spectrum more efficiently and increasing its mobile broadband capacity — like adding lanes to the highway so that it can handle more traffic.
###
Lara Lange
Casey & Sayre
310-473-8090
www.cswpr.com