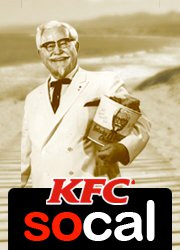 MEDIA ALERT for September 7
Santa Ana KFC Hosts Cook-Off WEDNESDAY, Sept. 7 to Determine OC's Best Chicken Cook
KFC SoCal holds competition in search of best chicken preparers in the Southland;
Winner of the Orange County Regional advances to Southern California final Oct. 11
WHAT: KFC Southern California is hosting a Southern California KFC Cooks Challenge to find the Southland's best KFC cook.
The Sept. 7 competition at a KFC in Santa Ana will determine the best cook in Orange County, who will compete in the Oct. 11 SoCal finals for a $500 cash prize and a chance to be labeled Southern California's best KFC Cook. The SoCal KFC Colonel will be onsite in OC to help judge the competition.
VISUALS:
The SoCal KFC Colonel himself critiquing cooks on tips and tricks for the competition
Cooks competing against each other preparing three KFC staples: Original Recipe®, Kentucky Grilled Chicken®, and the Colonel's Extra Crispy™ Strips
The SoCal KFC Colonel handing out medals and awards
WHEN: Wednesday, September 7, 2011, 10 a.m. – 2 p.m.
WHERE: KFC in Santa Ana – (714) 839-1340, 762 South Harbor Blvd., Santa Ana, CA 92704
CONTACTS: Chris Yemma – (714) 881-2412 or cyemma@dgwb.com
Chris Payne – (909) 208-5850 (onsite)
###