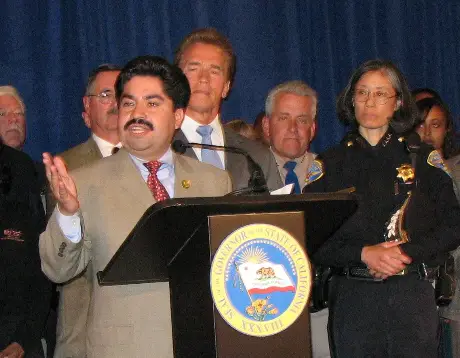 (May 2007) Assemblyman Solorio and Governor Schwarzenegger announce CalGRIP program.
For Immediate Release: July 2, 2010
For more information contact: Carol Chamberlain – office – (916) 319-2069, cell – (916) 804-5355
Assemblyman Solorio Announces Orange County Will Receive Gang Prevention Grant
Competitive CalGRIP Grant Totals $490,213
SACRAMENTO – Assemblyman Jose Solorio (D-Anaheim) congratulated Orange County for receiving $490,213 in funding from California's competitive Gang Reduction, Intervention and Prevention Grant Program (CalGRIP).
"This is a real compliment to Orange County's application," says Assemblyman Solorio. "I joined the Governor to roll out CalGRIP in 2007, and have seen the program evolve and make a real difference in many communities."
The Governor announced in May the state would make new grants available to expand education, job training and placement programs for at-risk youth as part of the Governor's CalGRIP initiative. This latest round of grants awarded will fund projects for job training, supportive services, education and placement for youth ages 14 to 24 that are either at risk of gang involvement or a current gang member.
"The best way to curb the rise of gang membership is to offer an alternative lifestyle," Solorio added. "Orange County is doing just that with its job training expansion for at-risk youth. This latest CalGRIP grant will go a long way to keeping kids from joining gangs in the first place."
The Orange County project will provide training for entry-level careers for which there is local demand. These include occupations in several industries including construction, healthcare, cabling/fiber optics, and environmental sanitation/water resources management. More than two dozen partner agencies will provide services and support.
Key partners include the county probation and sheriff's departments, local education agencies and community-based training providers, the Orange County Workforce Investment Board's (WIB) network of youth-service providers, the Anaheim and Santa Ana WIBs, economic development and business services agencies, which will recruit employers, and many public and nonprofit agencies that provide social services, healthcare and other forms of support. For more information, contact OCWIB Executive Director, Andrew Munoz via telephone at (714) 567-7370, or email ocwib@occr.ocgov.com.
CalGRIP combines funding from different programs and directs it towards local anti-gang efforts focused on intervention, suppression and prevention. Since CalGRIP's inception, grants totaling more than $14 million have been awarded to provide job training and education programs targeting youth who are seeking to leave gangs, or are at risk of joining them. In addition, more than $27.6 million in competitive grants for fighting gang violence have been awarded to several cities throughout the state.
In spite of an overall decrease in crime in most California cities since the 1990s, rates of gang-related violent crime have remained steady or increased in many California communities.
State Assemblyman Jose Solorio is the Chair of the Assembly Insurance Committee, and serves on the Assembly Appropriations, Local Government and Transporation committees. He represents the Sixty-Ninth Assembly District, which includes the cities of Anaheim, Garden Grove, and Santa Ana. For more information about Assemblyman Solorio, visit www.assembly.ca.gov/solorio.
Capitol Office: State Capitol, P.O. Box 942849 • Sacramento, CA 94249-0069
Phone: (916) 319-2069 • Fax:(916) 319-2169
District Office: 2400 East Katella Avenue, Suite 640 • Anaheim, CA 92806
Phone: (714) 939-8469 • Fax:(714) 939-8986
E-Mail: Assemblymember.Solorio@assembly.ca.gov
Web Site: www.assembly.ca.gov/solorio