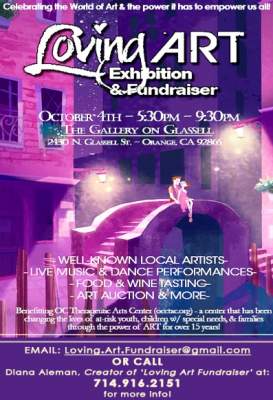 The First Annual "Loving ART" Fundraiser & Exhibition benefiting OC Therapeutic Arts Center has been set for October 4, 2014, from 5:30 pm-9:30 pm, at The Gallery on Glassell, located at 2430 N Glassell Street, in Orange.
This Art Show Fundraiser will help support Santa Ana youth in need of the Arts, Therapeutic Arts & Creative Education – in order for them to have a safe place to fully express themselves and realize their creative and overall potential!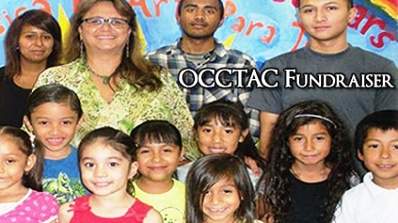 Organizer: Diana Aleman, an Art History major from CSU Dominguez Hills has created and is hosting this one of a kind Art Fundraiser to showcase local artists from all over O.C. and to have fun, learn more about OC Therapeutic Arts Center's mission, enjoy some (flamenco dancers,SASS violin, sketch Portraits, interactive room) entertainment, food & drinks, and meet and chat with artists and the art-loving guests as well!
"I love art and I believe every child needs the power of art to become individuals instead of being like everyone else."
Admission Prices:
Adult: $20
Child: $5
Free! With $20 worth of art supplies (bring receipt)
PLEASE SHARE AND INVITE ANYONE you'd like:)
Some of the Artists include:
Zabet Pucket: Painter
Janna Bock: illustrator
Gabriel Luis Perez: Free Lance Artist
RSVP to Diana at 714-916-2151 or by email to loving.art.fundraiser@gmail.com.
###