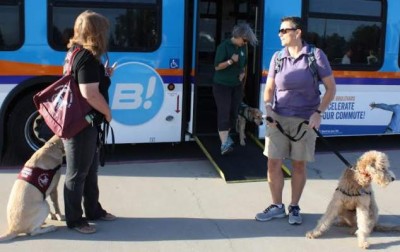 FOR IMMEDIATE RELEASE: Sept. 26, 2014
FOR MORE INFORMATION: Joel Zlotnik (714) 560-5713/Eric Carpenter (714) 560-5697
Service Animal Training Offers Free Rides for Dogs and Owners
Event helps service animals and handlers learn to navigate public transit 
ORANGE – A free service animal training day, hosted by the Orange County Transportation Authority and Knott's Berry Farm, is back for the second time this year.
The training day is set for Saturday, Oct. 4 from 8 a.m. to 1 p.m. at the Fullerton Park and Ride, 3000 W. Orangethorpe Ave. Participants can begin checking in at 7:30 a.m. to receive their Knott's Berry Farm wristbands. Participants will enjoy unlimited practice boarding, riding and exiting an OCTA bus with their service animals. The round-trip training bus will depart every 20 minutes and will follow a special bus route for training day attendees. Trainers are encouraged to ride multiple times. 
Handlers and service animals will have access to enter Knott's Berry Farm in order to train around large groups of people and various unfamiliar sights and sounds. Admission to the park does not include access to rides and attractions.
After completing the training day, participants can apply for the OCTA Bus Mobility Training Card. This no-fare photo ID lets holders ride OCTA's fixed-route system for free while training a therapy or service animal.
The spring event, in April, was attended by more than 150 handlers who helped train more than 100 service animals.
For more information, visit www.octa.net/animal.
# # #