One of our readers has reported a shooting today, just after 1 p.m., at Broadway and Pine in Santa Ana. That area is just east of Santa Ana High School. There are several SAPD units there apparently looking for suspects as seen in the picture below.
Another shooting was reported late last night at McFadden and Standard, just west of Kennedy Elementary School. A truck was reportedly hit by the bullets. The media did not report that shooting or the one today at Broadway and Pine.
The New Year is off to a very bloody start in Santa Ana. So far we have posted five articles in 2016 about gang incidents (two of the articles were about the same incident, where a 19-year-old from Garden Grove died after being shot in the head near Centennial Park).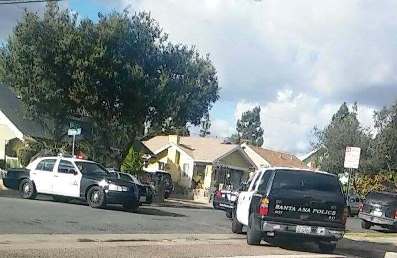 Today's incident is in Santa Ana's Ward 1, which is represented by Mayor Pro Tem Vince Sarmiento.  Last night's incident was in Ward 2, which is represented by Councilwoman Michele Martinez.
The Santa Ana City Council appears to be asleep at the wheel while what looks like a gang war rages on in our city. Note that three of the Council Members are up for re-election in November including Council Members Roman Reyna, Angie Amezcua and Sarmiento. Sarmiento is also considering running for the O.C. Board of Supervisors in the June Primary Election against Supervisor Andrew Do in the First Supervisorial District. Do is a former Deputy District Attorney and his wife is a Judge on the Orange County Superior Court.  Mayor Miguel Pulido is also up for re-election.