Share Our Selves opens the SOS Health Center at Samueli Academy in Santa Ana
Caring for students and families at Samueli Academy
SANTA ANA, CA – January 5, 2015 – Share Our Selves (SOS), a respected community health center and social services organization with a forty-five year history of serving the needs of the community, is pleased to announce the opening of the SOS Health Center at Samueli Academy in Santa Ana on Monday, January 4, 2016. Share Our Selves provides comprehensive care throughout Orange County, with centers conveniently located in Costa Mesa, Santa Ana, Lake Forest, and Newport Beach. Samueli Academy is an educational program of Orangewood Foundation that provides a transformational learning environment to educationally underserved communities. Samueli Academy offers consistency, stability, support, and a community in which to belong, thrive, and grow into successful, independent adults.
The beautiful new health center, located on the Samueli Academy campus at 1901 N. Fairview Street in Santa Ana, is staffed with bilingual providers, and is open to the students and families of Samueli Academy. Services offered include primary medical care for adults and children, sports physicals, and a direct link to the services available at the other SOS health centers, including pediatric and adult dental care, food and financial assistance, eligibility enrollment for insurance, and much more. More services, including behavioral health, will be available in the coming months at the SOS Health Center at Samueli Academy.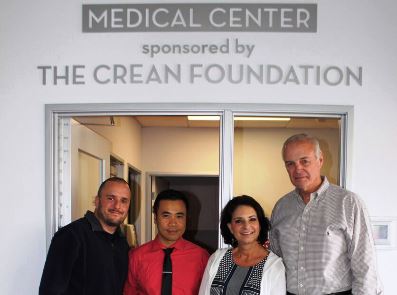 SOS CEO Karen L. McGlinn says, "The partnership between SOS and Orangewood demonstrates how powerful it is when two organizations trying to improve the lives of those most in need in our community work together. The SOS Health Center at Samueli Academy will provide vital health services to these vulnerable children and families so that they will be able to flourish and focus on their schoolwork instead of trying to overcome the barriers to accessing medical care." The center is open Monday through Friday, from 1:00 p.m. to 5:00 p.m.
###
About Share Our Selves
As leaders in the community, Share Our Selves (SOS) has provided care and assistance to our most vulnerable populations in Orange County since 1970. With service centers throughout Orange County, we specialize in providing personalized care for the community, including medical and dental services, behavioral health, case management, financial assistance, and special holiday programs. Our experience and innovative solutions, paired with our wide-ranging services, allow us to address the systemic nature of poverty from many angles, upholding our clients' basic human rights through transformational care, and fighting for the dignity all members of our community deserve. For more information about Share Our Selves please visit: shareourselves.org.
About Orangewood Foundation & Samueli Academy
Orangewood Foundation is one of the leading providers of services to foster and community youth. Foundation programs focus on four critical areas: basic needs, housing, life skills & employment, and education. Recognizing that 46% of foster youth do not graduate from high school, in August 2013 the Foundation opened Samueli Academy, a free public charter high school for community, underserved and foster teens and located in Santa Ana. Today the school has impressive results: a 97% attendance rate; 50% of students on the honor roll; and California High School Exit Exams (CAHSEE) scores of 99% on Math and 94% on English. Learn more at www.SamueliAcademy.org.