The Irvine Police Department showed up in large numbers this afternoon in a Santa Ana neighborhood at W. McFadden Ave. and Parton St., not far from Flower St.
The Irvine SWAT team appears to be on the call (see picture below) but so far the Irvine Police have not issued any formal press releases about the matter.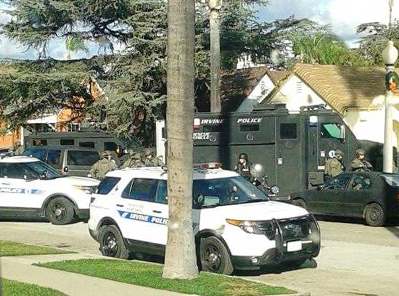 The O.C. Register later reported that around 2:45 p.m., the Irvine police gathered in front of a home in the 1100 block of South Parton Street. The police then ordered the occupants inside to come out. The Irvine police officers eventually entered the home shortly before 3:30 p.m.
One of our readers stated that an Irvine policeman told him they were there to arrest a murder suspect. The Irvine police department has not issued any formal press release yet about the incident.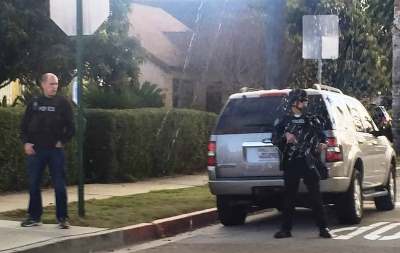 The street in question is right in the middle of three Santa Ana public schools – James Russell Lowell Elementary School, Martin Elementary School and Lathrop Intermediate School.
It is not uncommon for police agencies to show up in neighboring cities when they are arresting a suspect who may have been involved in a crime originating in their own city.