AWARD-WINNING NOVA ACADEMY EARLY COLLEGE HIGH SCHOOL GETS A NEW, STATE-OF-THE-ART SCHOOLHOUSE
NOVA, Named One of U.S. News & World Report's Best High Schools for 2015, Acquires Four-Story, 37,000-Square-Foot Building in the City of Santa Ana, Enabling the Charter School to Expand Enrollment from 400 to 450 Students
New Building Will Feature Fully Integrated Technology, Chromebooks for All Students, and Learning Opportunities that Fuel Long-term Academic Success
NOVA Students, 80% of Whom Come from Low Income Families, Are Exposed to a College Culture with Curriculum that Focuses on High Expectations and Diverse Academic Experiences, Increasing Access for the Underserved in Orange County
Next fall, the students of award-winning charter school NOVA Academy Early College High School will enjoy learning in a whole new, improved, and dramatically expanded environment.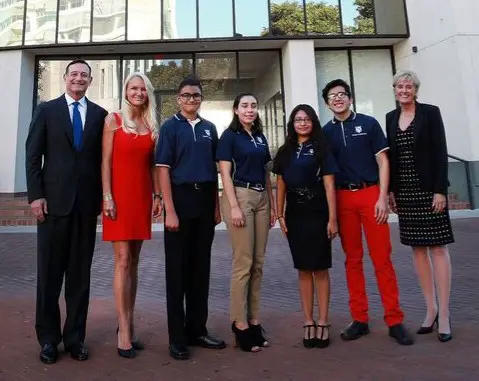 NOVA Academy recently closed escrow on a four-story, 37,000-square-foot educational facility at 500 W. Santa Ana Blvd. in the city of Santa Ana. The state-of-the-art building will feature 20 classrooms, an open study lounge with Chromebooks for every student, and fully integrated technology that transforms the academic experience.
The move to the new building will enable NOVA Academy—awarded a silver medal by U.S. News & World Report in its rankings of the Best High Schools for 2015—to increase its enrollment from 400 to 450 students in grades nine through twelve.
"We're thrilled to announce our move to this state-of-the-art facility, which is a fitting symbol of the amazing transformations our students and faculty have made over the past 11 years," said Renee Lancaster, Executive Director, NOVA Academy Early College High School. "It's been a longtime dream of ours to educate our students in an environment that is as inspiring as they are, and we're excited to do so beginning in the fall of 2016."
The announcement comes on the heels of many recent accolades for NOVA Academy. In addition to the Silver Medal from U.S. News & World Report, the school was ranked #11 out of 70 high schools in Orange County by the Orange County Register in its ranking of the Best Public Schools in 2014. NOVA Academy also had Orange County's second-highest passing rate on the California High School Exit Exam (CAHSEE) for the 2014–15 school year, behind only the more affluent Laguna Beach High School.
NOVA Academy's current student body comprises 400 students in grades nine through 12. The student population is 98 percent Hispanic, with about 80 percent of students coming from low-income families and 13 percent considered homeless; other students live in foster or group homes.
In addition to principal Doreen Fioretto and Assistant Principal Kathryn McGillivary, NOVA Academy in Santa Ana has 20 teachers and committed counselors and staff members who focus on college readiness and who are dedicated to the development of each student's social, emotional, intellectual and physical well-being. Through close relationships, high expectations and a college-going culture, curriculum is developed to address the importance of soft skills necessary to be successful in navigating through life. These skills—persistence, discipline, teamwork, communication, and collaboration—are interwoven through a class called "Family," where one teacher is the point of contact for the each student's four years at NOVA Academy. NOVA Academy opened a second campus in Coachella in 2005.
"The new NOVA building has more space for the students to study and hang out in between classes," added Maria Martinez, who is a junior at the school. "This building gives NOVA Academy a permanent home and the students are now free to express their NOVA pride."
NOVA recently formed the NOVA Academy Children's Foundation, dedicated to raising funds to enhance the school's physical, technological, and educational resources and offer its students even greater opportunities in the future. Doug Hodge, CEO/Managing Director of PIMCO, serves as President of the Foundation. Hodge and his wife, philanthropist Kylie Schuyler, Executive Director of international nonprofit Global G.L.O.W. and a mentor at NOVA Academy, also contributed time and funds that enabled NOVA to purchase the new building.
"NOVA Academy is an exceptional school that has demonstrated extraordinary success since it started with just nine students 11 years ago," said Hodge. "Its early college high school program allows students to progress at an accelerated pace, and its graduates have gone on to such prestigious universities as UCLA, UC Berkeley, and UC Irvine."
"As someone who believes strongly in the power of education, I've been so impressed by the great work done at NOVA Academy, where the faculty is truly dedicated to helping students reach their full potential," added Schuyler, whose Global G.L.O.W. nonprofit provides mentorship and literacy programs to empower girls around the world. "Doug and I couldn't be happier to be part of NOVA's growing success."
Congresswoman Loretta Sanchez, whose 46th District includes Santa Ana, has also been vocal in her support of the school. "NOVA Academy plays such an important role in the development of our young people and future citizens," said Sanchez. "The students, many of whom come from challenging circumstances, flourish thanks to their own hard work and the guidance and mentorship of NOVA's outstanding faculty and staff. I also want to acknowledge the tremendous contributions made by volunteers like Doug and Kylie and so many others who have donated their time and resources to NOVA's students. This kind of community-mindedness is what makes a society thrive."
###
Media Contact: Alison Hill, Current PR for NOVA Academy, 714.287.2015, alison@currentpr.com