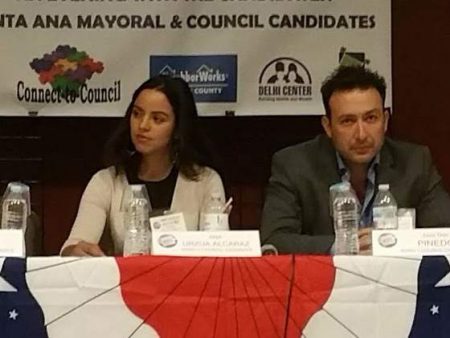 I had a chance to see Santa Ana Ward 3 City Council candidate Ana Urzua Alcaraz in action at last night's Com Link Candidates Forum. She was squeezed between a big pile of male Ward 3 candidates but Alcaraz managed to stand out in the crowd.
I have been involved in Santa Ana politics for a very long time but I don't recall any candidate quite like Urzua Alcaraz. While she is young and very attractive she is also smart as a whip – and she's friendly. She knows how to work an audience.
Urzua Alcaraz attended Lowell Elementary School, enjoyed summers at the Salvador Community Center pool, and shopped downtown at Calle Cuatro, according to her bio. She is the daughter of hard-working parents and comes from a close-knit family.
She has been a volunteer music teacher, a community organizer, and is currently a public health advocate. She also graduated from UC Irvine with a BA in Anthropology.
Urzua Alcaraz has never run for office before but she should scare the heck out of the gaggle of men who are running against her for Ward 3.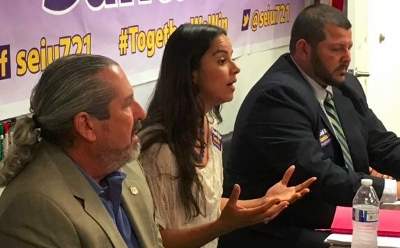 Think back to the election four years ago when current Councilwoman Angie Amezcua won, in a similar election against a bunch of male candidates. Amezcua did not campaign. She won by virtue of her gender, her familiar-sounding name and her ballot title – teacher.
Urzua Alcaraz, unlike Amezcua, is campaigning every day. And she has a ton of help. The odds might be long as I doubt she will be able to raise much money but as the only woman in the race she has a good chance of getting half the vote – as half the voters are ostensibly women. That might be enough to put her over the top.
On the issues Urzua Alcaraz sounds a lot like Mayoral challenger Benjamin Vazquez. She talks about "Smart Policing" and housing for the poor. I don't know how Alcaraz and Vazquez plan to pay for that housing but they sound darn sincere about it. I do like that Urzua Alcaraz is focusing on creating new jobs as a way to keep our young people out of trouble!
If Urzua Alcaraz does win we can rest assured that she won't just go along with the City Council majority. In fact she will probably be a pain in their side!  And I don't think she will sell out to the developers the way Roman Reyna and David Benavides have. I also think she will be 1,000 times better than Amezcua, who has barely been interested in city business and has endorsed a lesser candidate, David De Leon, to replace her. De Leon appears to be a Reyna clone – and that is not good.
The other candidates for Ward 3 include:
Click here to check out Urzua Alcaraz' Facebook page.