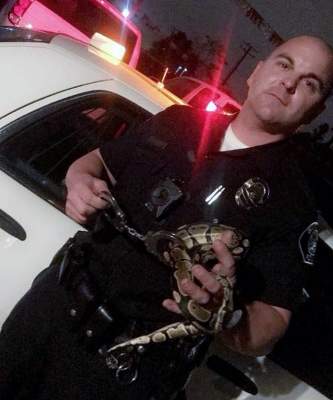 Imagine coming home and finding a giant snake in your house? That happened to a Santa Ana family this Saturday, Aug. 18, according to the O.C. Register.
The family discovered the snake at their home, at the 900 block of South Main St., at about 1 a.m. As animal control officers were not available at that time, when the family called 911, the call was put through to the police on duty.
SAPD officer Justin Collins as on duty at that time – which is fortunate for all involved as he is a fan of snakes and owns several of them.
When Collins came to the home he found a man at the top of three stairs using a stick to pin down the 3-foot-long snake, which turned out to be a ball python, a non-venomous snake.
Collins recognized the snake was not dangerous and he picked it up. Eventually the man at the home was brave enough to touch it but his wife refused to.
As you can imagine the poor snake was scared but was otherwise in good health and Collins felt it was well cared for. He believes it is a lost pet. He is keeping the snake at home in a spare cage as few shelters in the County can handle snakes.
If you think this is your python be sure to call the SAPD at 714-245-8665.