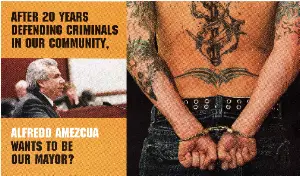 A chill must have gone up failed Santa Ana Mayoral candidate Alfredo Amezcua's spine this morning when he cracked open the newspaper and found out that "Federal and state authorities charged 99 alleged Orange County gang members with crimes including murder, drug trafficking and extortion, at least half or whom were associated with the Mexican Mafia prison gang," according to NPR.
U.S. Attorney Andre Birotte said a primary target of "Operation Black Flag" was Peter Ojeda, also known as "The Big Homie" and "El Senor."  Sixty-nine-year-old Ojeda is a member of the Mexican Mafia who has long controlled its operations in Orange County, though he's been in federal prison for five years.
Amezcua is said to have been the top lawyer for the head of the Mexican Mafia, Peter "Sana" Ojeda.  In fact the L.A. Times identified Amezcua as an adviser for the United Gangs Council, in a 1993 article that also mentioned that Ojeda was a leader of this organization.
Ojeda was later arrested for allegedly taxing drug dealers.  And then he was "sentenced to 14 years in federal prison after pleading guilty earlier this year to violating federal racketeering and narcotics laws," according to an online news report.
Amezcua was also mentioned in another L.A. Times article in 1992, when another Urgan Gangs Council leader, Art Romo, was arrested, for alleged money laundering.  In that article Amezcua was referred to as their "unofficial legal and political adviser."
I doubt Amezcua is crying about the latest arrests.  Most likely he is making a lot of calls and trying to pick up some more gang banger clients…
Kudos to the FBI, ATF, Orange County Sheriff's and Santa Ana Police Departments, Department of Corrections as well as state and federal prosecutors who carried out "Operation Black Flag."
Santa Ana Mayor Miguel Pulido got his two cents in too, "Today we are safer and better off," he said. "Without this cooperation, we just couldn't do this. The bad guys are so good now (at evading authorities) … Unless we cooperate, we just couldn't do what we were able to do today."
I am so glad Pulido beat Amezcua last year!  Does anyone really think Amezcua would have supported Operation Black Flag?  I don't think so!