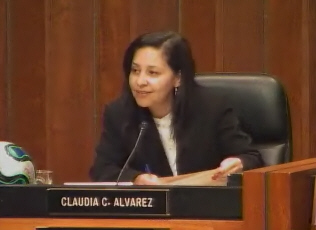 Santa Ana Mayor Pro Tem Claudia Alvarez is hosting a fundraiser for her campaign for the Rancho Santiago Community College District's Board of Education on Thursday, September 20th, 2012, from 5:30 pm to 7:30 pm, at Country Garden Caterers, located at 719 North Main St., in Santa Ana.
The Host Committee for this event includes:
Santa Ana Mayor Miguel Pulido
Santa Ana Councilmember Sal Tinajero
Santa Ana Planning Commissioner Frank Acosta
Santa Ana Housing & Redevelopment Commissioner Lisa Bist
Santa Ana Parks and Recreation Commissioner Max Madrid
Santa Ana ETAC Commissioner Brian Bist
And Santa Ana Educators Marina Alfaro, Ernesto Figueroa and Sonia Ramirez
To RSVP or for more information please call (714) 936-7225 -or email alvarez4education @gmail.com. Click here to check out Alvarez' website.