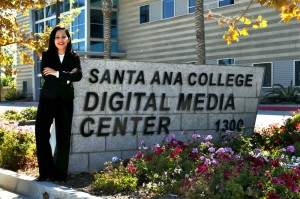 Santa Ana Mayor Pro Tem Claudia Alvarez has launched her campaign website, for the Rancho Santiago Community College District's Board of Trustees.
Her endorsements are impressive.  They include:
Miguel Pulido Santa Ana Mayor
Loretta Sanchez U. S. Representative
Tony Rackaukas OC District Attorney
Dinah Nguyen Garden Grove Councilmember
Orange County Professional Firefighters
Lisa Bist former Mayor Pro Tem, Santa Ana
Paul Walters formerly Santa Ana Police Chief
Steve Jones Garden Grove Councilmember
Sal Tinajero Santa Ana Councilmember, former National Teacher of the Year
Larry Crandall Fountain Valley Councilmember
Click here to check out her campaign issues.
For the record, I have endorsed both Alvarez and Dave Chapel, for Area 5 of the RSCCD Board of Trustees.  No matter which one wins one thing is certain, the Usual Suspects' candidate, Mark McLoughlin, is toast!
Here is Alvarez' bio:
Claudia was raised in our community, having lived Santa Ana for over 30 years.  She attended our local public schools including Fremont Elementary, Spurgeon Jr. High and Santiago High School.   Although Claudia started her higher education career at Cal State Fullerton in biology, she soon realized that her passion to serve the public would best be realized by choosing a career in law.  By taking core classes at Santa Ana College concurrently, Claudia went on to  earn a Bachelor of Arts degree from Cal State University Fullerton, majoring inCriminal Justice with a minor in Political Science.  She earned her Juris Doctorate Degree from Loyola Law School and was admitted to the California State Bar in 1994.
Claudia took interest in public service early on, serving in many student organizations in high school, and being part of the Associated Student Board of Directors at Cal State Fullerton.   While in college, she also volunteered for crime prevention programs like the Orange County Bar Foundation's Shortstop program and worked at the North Orange County court house.   Law school also provided public interest opportunities for Claudia, volunteering at the Los Angeles Legal Aid Foundation helping victims of domestic violence and at the Conflict Resolution Center at Loyola Law School, helping the surrounding community resolve conflict.
In her professional life, Claudia has served as a Deputy District Attorney in Orange County for over 13 years.  She also continued to be active in many community organizations. She has been a mentor for the Puente (Bridge) and Hermanita (Little sister) Programs and has also assisted with gang prevention issues.  Claudia has served as President of the Hispanic Bar Association and as Vice-President of KinderCaminata, a program that introduces low-income kindergarten students to higher education through their local community colleges. Claudia has also been President of MANA (OC Chapter), a National Latina Organization and served as a board member of the Community Service Programs (CSP), an organization dedicated to serving Orange County residents through programs addressing issues in gang prevention, victim/witness, domestic violence, transitional housing and youth shelters.
Claudia was elected to the City Council in November 2000, re-elected in 2004 and in 2008 with over 78% of the vote.  In 2002, Claudia attended the Program for Senior Executives in State & Local Government at Harvard University's John F. Kennedy School of Government and served as a delegate to Japan through the American Council of Young Political Leaders in October 2003.
Claudia has served as Mayor Pro-Tem in Santa Ana since 2007.  She also represents the City of Santa Ana on the Orange County Water District (OCWD) Board of Directors, currently serving as president.  Claudia also leads as Chair of the Public Safety Committee for many years and is a member of the Transportation Committee.    After twelve years of serving our community on the Santa Ana City Council, Claudia is termed out in November of 2012.
Claudia is grateful for the opportunities her education has provided.  She now looks forward to putting her experience to use by serving on the Rancho Santiago Community College District Board.  With your vote, she can work with you in strengthening our community colleges.