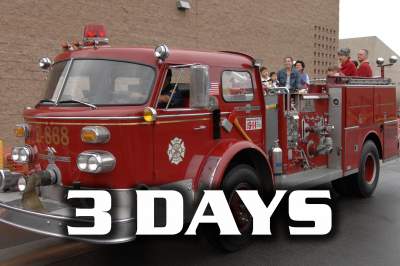 NEWS RELEASE, FOR IMMEDIATE RELEASE: October 10, 2012
Subject: Firefighters Show Their Skills at Orange County Fire Authority's 7th Annual Open House – October 13
Contact: Lynnette Round, Supervisor (714) 290-7772 or lynnetteround@ocfa.org
Captain Marc Stone (714) 319-4657 or marcstone@ocfa.org
Irvine, CA – It is three days away, the most hands-on firefighting experience here in Orange County. Bring your family and friends to see live fire demonstrations, put out make-believe fires, take a ride in a fire engine, try on firefighter turnouts, and discover life and fire safety in a fun-filled environment.
Orange County Fire Authority is hosting its 7th Annual Open House on Saturday, October 13th from 10 a.m. – 3 p.m. at our Regional Fire Operations & Training Center located at 1 Fire Authority Road (Jamboree & Tustin Ranch Rd.) in Irvine. This is the big enchilada of fire apparatus, firefighting skills, and firefighting tools all under one big umbrella, our headquarters facility. Back by popular demand is the Urban Search & Rescue dog demonstration, making two jaw-dropping illustrations of their amazing talent and skills by finding live victims. There will also be a fundraising kick-off at 1 p.m. for the 9-11 Memorial, which includes a steel beam from the Twin Towers donated by the FDNY.
To see how firefighters prepare and stay abreast of current firefighting techniques, demonstrations on the training grounds will occur every half-hour beginning at 10:30 a.m. Make sure to stop by the courtyard area for interactive displays and educational opportunities. For more information, visit www.ocfa.org or call (714) 573-6200.
# # #
The Orange County Fire Authority is a joint powers authority that serves more than 1.8 million residents in 23 cities and the unincorporated areas of the county.
Orange County Fire Authority
PIO/Community Relations
1 Fire Authority Rd.
Irvine, CA 92602
(714) 573-6200
www.ocfa.org