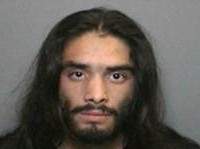 Matthew Jacob Granados, a 24-year-old man, was sentenced to nine years in prison for a baseball-bat assault that happened shortly after he was released from behind bars jail for manslaughter last year and also for an earlier scuffle with police, according to the O.C. Register.
Granados accidentally shot and killed a 16-year-old friend of his, Alex Ramirez, back in 2016. At the time Granados fled but he eventually turned himself into the police. 
However a few months after his release from jail, on June 11, 2017, Granados was found yelling at cars and pounding his fists on them, at about 2 a.m. at Hazard Avenue and Bewley Street, according to the SAPD.
Granados then bashed in the back window of a car that was passing by with three occupants. The driver of that car pulled over and took a swing at Granados but missed. Then another man handed Granados a bat and he used it to attack the driver, who was cut up and bruised during the attack.
Granados, his father and half-brother were also accused of attacking three Santa Ana police officers back in June of 2015. Granados' father, Alexander Christopher Granados, 43, has a preliminary hearing on Jan. 15 for that assault. Granados' 23-year-old half-brother, David Hernandez Jr., pleaded guilty on Monday to resisting arrest, battery on a peace officer and being an accessory after the fact in that assault as well.
Granados pleaded guilty back on March 3, 2017,  to involuntary manslaughter after killing Ramirez and he was sentenced to nearly a year in jail. Granados was released the day of his plea for time served as he had been in custody since his September 2016 arrest, according to the OCDA.