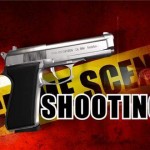 There was another shooting in Santa Ana today, shortly after 4:30 p.m., and this time I have a feeling that the SAPD will be recording the incident as a male victim was shot in the head, according to SAPD Case Number 16-24749.
The shooting happened at the 800 block of South Toland Street, where an unidentified male victim was shot in the head by an unknown assailant. 
The victim was walking when he was struck in the head with a bullet. He was transported to a local hospital and is in stable condition.
No word yet as to the motive of the shooter. Nor do we have a description of the suspect.
This incident happened near Fitz Intermediate School in Santa Ana's Ward 6, which is represented by Councilman Sal Tinajero.