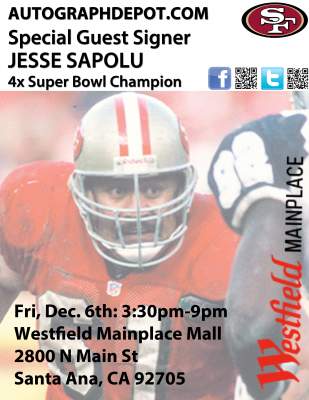 Four-time San Francisco 49ers Super Bowl champion Jesse Sapolu will be signing autographs on Friday, Dec. 6, 2013, from 3:30 pm to 9 pm at the Westfield MainPlace Mall in Santa Ana.
In his new book, I Gave My Heart to San Francisco, four-time San Francisco 49ers Super Bowl champion Jesse Sapolu detailed the highlights and hardships of his remarkable playing career, according to the 49ers website.
Jesse Sapolu attended Farrington High School and the University of Hawaii in Honolulu. Standing 6 feet 4 inches, 278 lbs., he was selected by the Oakland Invaders in the 17th round (199th pick overall) of the 1983 USFL draft, and selected by San Francisco 49ers in the 11th round (289th pick overall) of the 1983 NFL Draft. He signed with the San Francisco 49ers on July 10, 1983, according to Wikipedia.
Sapolu is one of six 49ers to own four Super Bowl Championship Rings (1984, 1988, 1989, and 1994), and the only one of those to earn a ring with the '94 team rather than their first title in 1981.[1] He earned Pro Bowl honors in 1993 and 1994.
Since retiring in 1997, Sapolu lives in Costa Mesa, California,[2] and remains active in the community as well with the San Francisco 49ers alumni. He is also an Offensive Line Coach for the Edison High School Chargers in Huntington Beach, California.
Sapolu triumphed on the field despite having a dangerous heart condition, a torn aortic heart valve, that stayed with him during his 15-year career which included nine appearances in the NFC title game, four Super Bowl rings, two Pro Bowl appearances and two All-Pro selections.
The prideful former 49ers lineman had an enlarged heart which caused him to undergo two surgeries, including one in 1997, his final year with the 49ers.
Sapolu had been approached about doing a book following his playing career, but didn't know the right way to go about putting his thoughts together for the masses.
Two standout moments, however, made Sapolu reverse his course.
First, Sapolu's youngest son Roman, a sophomore center at Oregon State, dealt with the untimely death of a 19-year-old teammate, Fred Thompson, who passed away after collapsing while playing basketball from complications due to an enlarged heart.
Soon after, Sapolu's intent to share his story picked up significantly following his time at Junior Seau's funeral this offseason.
It was at that moment at the former San Diego Charger linebacker's service that Sapolu realized his story needed to be shared.
"I realized how short life can be and a lot of kids have my condition," Sapolu told 49ers.com. "I needed to write about it."
Sapolu's book can be ordered online through his official website and can also be picked up this weekend when the former standout conducts a two-day book signing event at the new 49ers Team Store at the Town and Country Village in Palo Alto. Sapolu will sign books from 5-7 on Saturday night and from 12-5 on Sunday.
Sapolu said he's eager to see the reaction of the 49ers Faithful to his story.
"I feel like it's a good thing to let people know what I dealt with during my whole career," Sapolu said. "Kids with similar heart conditions, they need to know about it. There's a way they can come back and play with a certain procedure which allows them to fulfill their dreams if they choose to."
Sapolu's teammates were also proud of the hardships the powerful lineman dealt with during a decade and a half with the 49ers where he played center and guard. As a young boy growing up in Western Samoa, Sapolu suffered from a leaky aortic valve that led to an enlarged heart which made breathing difficult during his childhood. Sapolu had his situation closely monitored in college and in his early years with the 49ers.