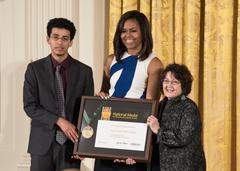 City of Santa Ana
Community: The Santa Ana Public Library Wins the Gold at White House National Medal Ceremony
Congratulations to City of Santa Ana Public Library for winning the 2016 National Medal for Museum and Library Service!
Earlier today at the White House, First Lady Michelle Obama and Director of the Institute of Museum and Library Services, Dr. Kathryn K. Matthew, honored outstanding museums and libraries with the 2016 National Medal for Museum and Library Service. Ten institutions from across the country attended the White House ceremony to receive the highest award given to museums and libraries for service to the community.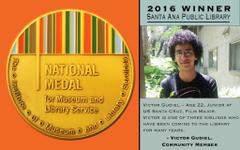 To reach the large youth demographic in Santa Ana, the Santa Ana Public Library employs young staff as pages and works with the teens to mentor and grow their careers as librarians. To date, three of four principal librarians grew up in Santa Ana, and thirteen bilingual young people from the Santa Ana or neighboring communities are enrolled or recently graduated from Master of Library and Information Science programs.
In addition to Mayor Pro Tem Vicente Sarmiento and Library Services Manager Heather Folmar who were on hand during the ceremony, community member Victor Guidiel participated in the ceremony and shared how the Santa Ana Public Library has impacted his life. Victor is 22 years old, and both a junior and a film major at US Santa Cruz. Victor is one of three siblings who have been coming to the library for many years.
Learn more about Santa Ana Public Library and the contributions they've made to their community: https://www.imls.gov/santa-ana-public-library.