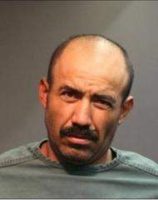 On Friday, April 10, 2020, SAPD Officers responded to the area of 1st Street and Broadway to assist the Orange County Fire Authority, as firefighters had just extinguished a man engulfed in flames. Officers initiated a criminal investigation. Based on surveillance footage, officers determined the victim was sitting on the sidewalk when a suspect rode up to him on a bicycle, doused him in an unknown liquid, later determined to be an accelerant, and lit him on fire. The suspect fled the scene on his bicycle. The attack was unprovoked.
The victim sustained 1st, 2nd, and 3rd degree burns on his upper body. OCFA paramedics stabilized the victim at scene and transported him to a local trauma/burn center where physicians listed him in critical condition and later performed surgery to heal his wounds.
SAPD Homicide Section detectives assumed the investigation. Detectives worked with officers from the SAPD Quality of Life Team (QOLT) who specialize in interacting with the homeless population in the City of Santa Ana.
On Monday, April 13, 2020, QOLT Officers observed a man and bicycle, near the original crime scene, matching the description of the arson/attempt murder suspect. QOLT officers detained the man and alerted Homicide Section detectives. Detectives conducted witness interviews and obtained additional surveillance footage. Detectives arrested Adrian Alberto Rodriguez Herrera on suspicion of arson and attempted murder. Detectives are collaborating with the Orange County District Attorney's Office and working on gathering additional evidence The SAPD Homicide Section requests anyone with information about this crime come forward and provide any information on this case by calling (714) 245-8390.