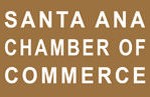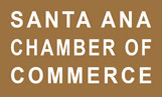 The Santa Ana Nonprofit Leadership Forum is a series of quarterly lunch meetings developed to convene local nonprofit leaders around core business issues related to their ability to affect change in our community.  The next meeting is on April 26.
Each forum starts with an informal luncheon, a roundtable of announcements about key events and challenges, and a formal presentation on topics facing the sector's professionals, followed by Q&A. We believe this structure offers a chance for networking and dialogue, while focusing in on subjects of importance to the nonprofit sector.
All nonprofit professionals are welcome, but content is directed primarily at the challenges facing EDs, CEOs, CDOs, CFOs and Project Directors. As the broker of solutions for the Santa Ana business community, the Chamber has developed the following topic for the first quarter of 2011:
Sponsored by Summit HR & Payroll
Directions:
At the intersection of Main Street and Santa Clara.
Rancho Santiago Community College District
2323 N. Broadway, First Floor
Santa Ana, CA 92706
Date: 4/26/2011
Time: 11:30 AM TO 1:00 PM
Phone:
714-541-5353 x116
Non-Profit Leadership Forum Luncheon