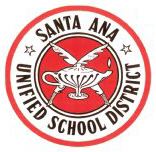 Nine SAUSD Students Awarded a $1,000 Scholarship to Attend College
SANTA ANA, CA – April 14, 2011 – Nine Santa Ana Unified School District (SAUSD) seniors, one from each high school, were each awarded a $1,000 college scholarship by the Santa Ana Chamber of Commerce at the Difference Makers' Luncheon held this week. SAUSD Superintendent Jane Russo also received a commemorative plaque for her extraordinary service to the community as a Difference Maker in the lives of thousands of students.
The outstanding seniors, who are making a difference as leaders at their school and in their communities, include the following:
Andrew Ayala, Lorin Griset Academy
Casey Clayson, Godinez Fundamental High
Erika Fuentes, Saddleback High
Jessica Gandara, Valley High
Vannie Luong, Segerstrom High
Ruth Madrid, Century High
Angelica Martinez, Santa Ana High
Samira Meza, Middle College High and
Joshua Recinos, Chavez High
For more information about SAUSD or its schools, log on to http://www.sausd.us/.
###