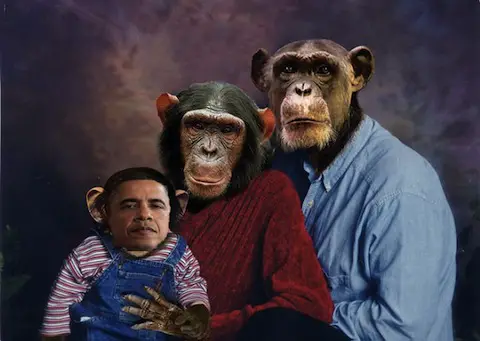 When I got a call this morning from Rosa Ordaz, an assignment editor at KCBS 2 and KCAL 9, asking for Tim Whitacre's phone number, I realized that he had once again ended up in the media – and this time the story was huge.
Whitacre, a Santa Ana resident, has been in big demand by the media ever since a friend of his, Marilyn Davenport, was outed by the OC Weekly, after she emailed the picture atop this post, depicting President Barack Obama as the progeny of chimpanzees, to a bunch of her fellow Republican friends.
Davenport also sent me the picture but I did not open the email.  She generally sends all sorts of GOP propaganda to me, and I rarely open the emails.  Ironically enough, she contacted me after the story broke to ask if I had been the one who sent the original email to Scott Moxley, over at the OC Weekly.
No, it was not me.  I don't know who did it.  But since the story broke, OC GOP Chairman Scott Baugh  and Republican consultant Mike Schroeder have gone public with their demands that Davenport resign from the OC GOP Central Committee.
That is of course ridiculous.  Her views are widely shared by most GOP hacks.  And she did not send out the email in her capacity as a member of the OC GOP Central Committee.
You may recall that another OC GOP Central Committee Member, Dean Grose, got in hot water after Obama was elected, when he sent out a cartoon of the White House with a garden of watermelons.  He did that using his City Council email.  He was at the time a member of the Los Alamitos City Council.  He later resigned that position but was later elected to the OC GOP Central Committee – just last year in fact.
Baugh and Schroeder are ripping Davenport, according to Whitacre, because she often opposes their schemes.  That is true.  It should be noted that Baugh and Schroeder make a living off politics, and the OC GOP, while Davenport is just an activist.  And, according to Whitacre, she is a nice grandmother to boot.
That said, the Obama chimp picture was disgusting.  But again, that sort of thing is de rigeur in the GOP today.  Over 51% of Republicans are birthers, according to a recent poll.  And most of that bunch is also involved in the Tea Party.
And just look at Donald Trump, who has leaped to the front of the pack of Republicans vying for the White House in 2012, because he is questioning where Obama was born.
The silly Republicans ought to be focusing on taxes and spending, but they just cannot get out of their own way – and hating folks is what they do best, sad to say.  Their hate for immigrants is what drove me to quit their party a few years ago.
Schroeder, by the way, is the guy who gave us disgraced former O.C. Sheriff Mike Carona.  That is all you need to know about him!