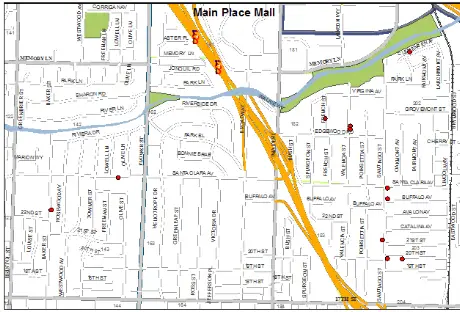 SANTA ANA POLICE DEPARTMENT
NEWS RELEASE
Date: 8/19/10
Contact: Santa Ana Burglary Unit, (714) 245-8400
Since March, 2010, the Santa Ana Police Burglary Unit noticed an increase in residential burglaries around the North East area of the City (see map).
The burglaries occurred during the morning and early afternoon hours while the residents were typically at work and away from home. Several undercover operations were conducted and last week the Santa Ana Crime Scene Investigations Forensic Lab (CSI) identified a suspect through fingerprints left at one of the burglaries.
Yesterday on 8/18/10 SAPD Detectives conducted surveillance of the suspect, a 17yr old male, and made the arrest after he left his house. During their investigation 13 Santa Ana and 3 Garden Grove residential burglaries were connected to this suspect. Most of the victims have been contacted and some were able to recover property, including an expensive watch the suspect was wearing when arrested. He targeted homes with unlocked doors and windows. Additional burglaries and suspects are being reviewed at this time.
Jewelry and other expensive items were taken. The approximate value of the items stolen is over $100,000.