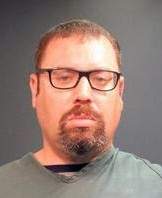 Daniel Jonas Fine, 42, a Santa Ana man, pleaded guilty on Wednesday, June 7, to misdemeanor charges for hitting a clerk in the head, hurling bananas at another employee and knocking over two cash registers when his payment card was declined for a candy purchase at a Santa Ana 7-Eleven store, according to the O.C. Register.
Fine was placed on three years of informal probation despite pleading guilty to charges including battery, vandalism and assault. He has been in jail since April 18 so his additional 30-day jail sentence most likely is a moot point.
Fine was arrested two weeks after he flipped out at the 7-Eleven store located at 902 W. First St., in Santa Ana, after the SAPD posted security video footage of Fines' actions at the store. The video led to many calls to the police from tipsters who recognized Fine.
Fine was arrested on April 18 when an arrest warrant was served at the sober-living home he was staying at.
It turned out that Fine had a history of such behavior and he was already on probation.
The store's surveillance video showed a customer flipping out after he tried to buy a package of almond M&Ms when his credit or debit card was declined. The suspect attacked the store clerk, hitting him in the head. Then he swept the cash register to the floor and proceeded to throw bananas at another store clerk. Then he pushed another cash register to the floor. In total he caused about $700 in damage to the store.
Before Fine flipped out he also made racial comments to the store clerks, according to the SAPD. The clerks, to their credit, did not react to Fine's behavior. He then completely derailed when his credit or debit card was declined.
Fine has been causing problems in Orange County since 2014 when he was charged with hit-and-run involving injury or death according to court records.
Fine plead out in that case and he ended up admitting to a misdemeanor count of assault with a deadly weapon other than a firearm. He was then ordered to complete 30 days of community service. His probation in that case ended up getting revoked in April of last year and he was sentenced in December to 120 days in jail as part of a plea deal involving two other cases. At the time he also plead guilty to additional misdemeanor charges of battery on a peace officer and battery in additional cases that happened on April 26 and Aug. 23 of 2016.
It is too bad this guy is not getting sent to jail for several years. It is obvious he cannot control himself and it is a matter of time before he freaks out again.