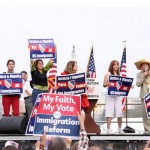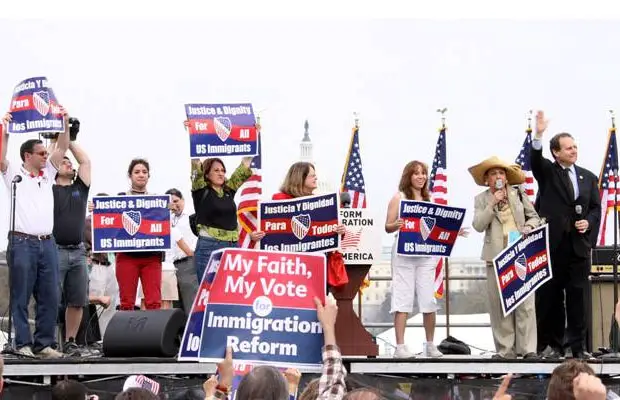 League of United Latin American Citizens
Santa Ana LULAC Council #147
Established: National – 1929 | Santa Ana – 1946
Orange County LULAC District #1
PO Box 1810, Santa Ana, CA 92702-1810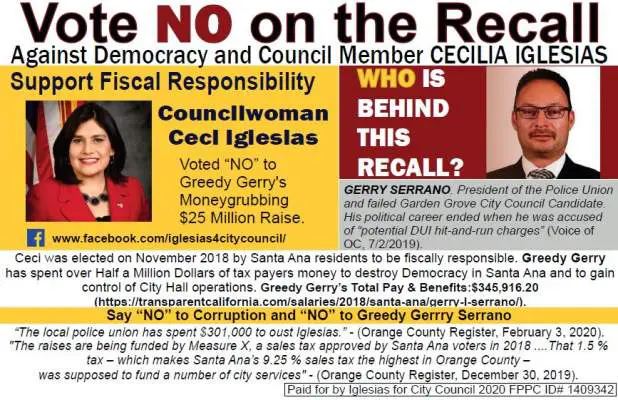 June 3, 2011
Isn't it time for Santa Ana to have a voice on the O.C. Board of Supervisors?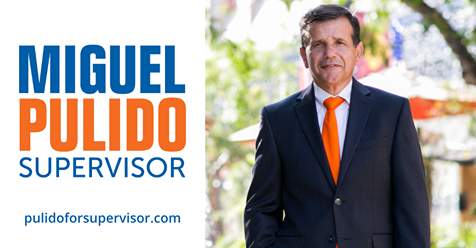 Paid for by Miguel A. Pulido for Supervisor 2020 (ID #1422663)
PRESS RELEASE – FOR IMMEDIATE RELEASE
Advertisement
Is your employer a mess? Call Sasooness.
In the state of California for every 5 hours worked an employee must get a 30 minute, uninterrupted lunch break. For every 3 hours worked an employee must get an uninterrupted 10-minute rest break. Working over 8 hours in a day or 40 hours in a week is due overtime. Don't let your employer screw you! Give us a call at 323 746-8099.
En el estado de California por cada 5 horas de trabajo su patrón le debe permitir tener un receso de media hora sin interrupciones. Si trabaja más de 8 horas en un día o más de 40 horas de trabajo en una semana su patrón le debe pagar tiempo y medio. No deje que su patrón abuse de su trabajo. No importa que no tenga papeles. Usted tiene derechos. Llamenos al 323 746-8099.
County Of Orange Redistricting Committee Violates Its Own Adopted Procedures in Accepting Anonymous Map Plans
In a May 27 letter to the County of Orange Executive Office and the Orange County Redistricting Committee, local civil rights organization Santa Ana LULAC #147 had provided a copy of its letter addressed to the United States Department of Justice to Rob Richardson, Assistant County CEO and to Don Hughes, Chairperson of the redistricting committee. This is contrary to the assertion by a county spokesperson to the Orange County Register in a news article released June 2. The article includes the following quote:
"County spokesman Howard Sutter said the county had not seen the letter and had no comment at this time."
Santa Ana LULAC President Zeke Hernandez, noted, "The county assistant CEO had requested a copy of the letter in a late e-mail message to me; and the county consequently was provided the letter within a short time after its request. The county committee has violated its own adopted procedures by accepting six anonymous redistricting plans at its May 26 meeting. These plans were submitted via online by a person using the same email username with an Anaheim 92805 zip code. The six phantom map plans constitute 25% of 24 maps submitted."
The county committee previously adopted guidelines of the Public Participation Plan states (highlights by Santa Ana LULAC):
"In order to submit a plan using the redistricting software, the software requires plans to have five district; no non-contiguous areas; no unassigned areas; a contact name, address, phone number, and email address; and a narrative description of the proposed plan, preferably in 250 words or less."
In addition, the county committee emphasized they would not accept plans that did not meet the requirements as specified:
"Neither the County nor CDR is responsible for rejection of proposals that are either not received by the deadline or are incomplete or that do not comply with the requirements herein."
The committee, with the urging by contracted county counsel, quickly accepted these six "Zip-Coded 92805" plans from an unknown person – their rationale was (and also asserted by counsel) that the phantom person may all of a sudden appear and reveal their real identity to the committee at some time during the review process.
Hernandez asserted, "The six submitted redistricting map plans did not have a contact name, no address, no phone number. The zip code was provided upon further investigation by contracted staff. The county committee should have never received the six phantom plans in the first place as they did not comply with adopted public participation guidelines."
"Santa Ana LULAC is rapidly losing faith that the Redistricting Committee will be neutral in its discussions, deliberations, and recommendations to the Orange County Board of Supervisors in June or July. What is becoming clear is that county committee members will find a way to include a plan for consideration to the Orange County Board of Supervisors that is a "pet plan" of one or more of the incumbent supervisors."
Established in 1946, Santa Ana LULAC Council #147 is the oldest LULAC council in California and is an affiliate of Orange County LULAC District#1 and LULAC National – founded in 1929 with its national office in Washington , D.C.
The mission and objectives of the League of United Latin American Citizens (LULAC) is to advance the economic development, educational advancement, public policy outcomes, housing opportunities, health awareness, and general civil rights protection of Latinos in the United States and Puerto Rico through community-based programs and services through more than 700 local LULAC councils nationwide.
###
Supporting Documents are being provided separately.
From: Zeke Hernandez
President (Past State Director)
Santa Ana LULAC #147
League of United Latin American Citizens
PO Box 1810, Santa Ana, CA 92702
714-661-4428 (cell)
www.LULACSantaAna.com
www.LULAC.org (National LULAC)