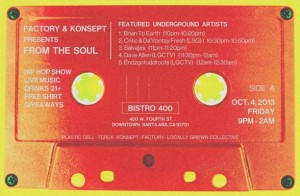 Event Details:
Us here at Konsept are doing something new, were trying to link up Local Clothing Companies and Local Hip Hop Acts together to Collaborate with one another.
This months guest is our friends at Factory Co, they will be the main sponsor for the event and will be vending during the show.
First 50 people to buy a drink at the bar will receive a free T Shirt from Factory Co all you need to do is show up to the booth with a ticket given to you at the Bar and your drink and you receive a free shirt. All shirts during the event will be at a special price of $8 a piece. Hope to see you guys there!
Performers :
• Brian To Earth (10pm-10:20pm) https://www.facebook.com/BrianToEarth
• Critic & Da'Vontay Fresh (LSG) (10:30pm-10:50pm) https://www.facebook.com/thinkCRITICally
• Salvajes (11pm-11:20pm) http://www.youtube.com/watch?v=EchG8yDr1zQ
• Dave Allen (LGCTV) (11:30pm-12am) https://www.facebook.com/DaveAllenLG
• Endzgotoddroots (LGCTV) (12am-12:30am) https://www.facebook.com/Endzthemc
Vendors :
• Konsept https://www.facebook.com/KonseptProject
• Factory https://www.facebook.com/factory1989
Plastic Cell https://www.facebook.com/plasticcell2012
• T.Crux http://thenweplay.com/
• Locally Grown Collective https://www.facebook.com/LGcltv ——————————–
Photography & Video by
• Izeldalia Photography https://www.facebook.com/IzeldaliaPhotography • OC SNAPS http://www.youtube.com/user/TheRose2089/videos • Bella Morte https://www.facebook.com/bellamortephotography ——————————-
Location : Bistro 400 400 W. 4th Street, Santa Ana, California 92701
Time : 9pm ——————————–
Price : FREE