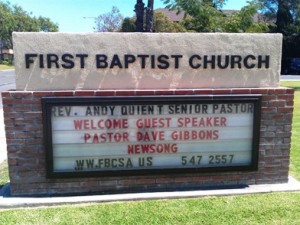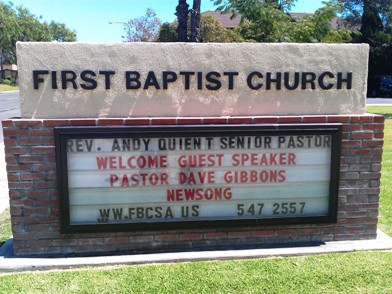 Updated: It is a done deal.  The members of First Baptist of Santa Ana voted today 42-17 to sell their church to Newsong Church.  The Board of Directors of First Baptist will now work out the details with Newsong's Board of Directors.  The deal will total $4 million dollars with $100,000 to be paid up front and the balance to be in the form of a Promissory Note.
According to FBCSA Director Sandy Nalle, First Baptist had perhaps six months to go before becoming insolvent.  This deal will ensure that First Baptist will remain a church.
Original Post:
At long last the day has arrived and the members of Santa Ana's historic First Baptist Church will be voting on a proposal to sell their church to Irvine's Newsong Church.  Make no mistake about it – this is a big deal.
We are talking about a church that was established in March of 1871 after William H. Spurgeon purchased seventy-six acres of land from the Yorba Ranch heirs in 1869 and laid out what was to become the city of Santa Ana. Services took place in a local school house until the first church was built in 1876. The cost was $4000 and it was located on four lots donated by Mr. Spurgeon at the corner of Main & Church Streets.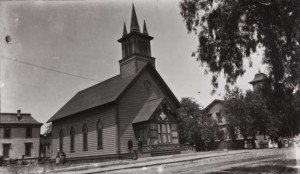 A new church, at the same location, was built in 1913-1914 at a cost of $ 49,244. It was dedicated free of debt.  That building later burned down and was eventually replaced.
Today First Baptist is a shell of the church it used to be.  The city's demographics changed and many of the longtime members of the board moved – but kept coming back to Santa Ana.  However the locals for the most part have not supported this church for awhile.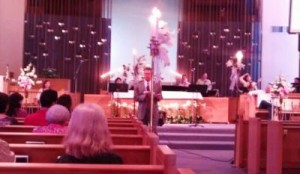 Newsong is led by the dynamic Dave Gibbons.  If you haven't met Gibbons, then you may not know that while he appears to be Korean, he is in fact the progeny of an American soldier who met and fell in love with a lady in Korea, while he was serving in the U.S. military there.  Gibbons' mom suffered greatly in Korea while married to another man who beat her.  Gibbons' father saved her from that life and they fell in love.  They eventually settled in Phoenix, Arizona, and started a family.
Gibbons could have become bitter but he went to seminary and he eventually started one of the most dynamic Christian churches in America.  His church today has a global presence.  But what it all boils down to is Gibbons' understanding that deep down inside we all want to be recognized for who we are, as individuals.
Last year I approached Pastor Andy Quient, my minister at Santa Ana's First Baptist Church with an idea that had come to me out of the blue.  I knew that Newsong's minister, Dave Gibbons, had expressed a desire to minister in Santa Ana.  Newsong had tried unsuccessfully to buy the Santora Arts building in Downtown Santa Ana.  I had a feeling that he still felt the same way.  The two pastors connected and hit it off, and our journey towards a potential merger of the two churches began.
And now at last the whole matter is coming to a vote, at a Business Meeting at 12:45 pm set for this Sunday, July 28, 2013.
We saw a preview today, in Downtown Santa Ana, of what Newsong is capable of.  They rallied their members for a "Love Mob" that appears to have been a great success.  This is what I love about Gibbons.  He has not given up on Santa Ana even as the city has been rocked by an increase in crime, all summer long.  Imagine what he will be able to do if the deal goes through?
For the members of First Baptist this is a game changer.  The church will no longer be empty.  We will finally have the resources and the man power to really minister in Santa Ana.  We already have a great minister in Quient – but now we will have Gibbons as well and I am praying that our members will see the possibilities and vote yes this Sunday.